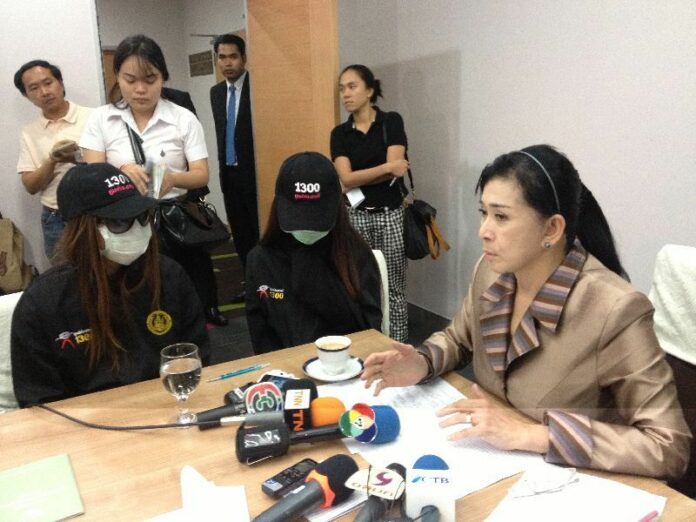 (10 July) 2 Thai women lured into prostitution in Hong Kong managed to contact Thai
authorities to rescue them after their escape from the brothel where they said they were forced to
provide sex to the patrons for 19 hours a day without pay.
Today the 2 women, identified as
Ms. A and Ms. B, told the press of their harrowing story in a press conference co-organised by
Pavena Foundation, a women rights charity, and the
Anti-Human Trafficking Division of the Royal
Thai Police (AHTD) which coordinated their rescue back to safety in Thailand.
The pair told
reporters that they were approached in Thailand by someone who claimed to represent career agency
and offered them a job at massage parlour in Hong Kong Special Administrative Region. They were
promised monthly pay around 80,000-90,000 baht per month.
Once they arrived in Hong Kong on
4 July via a Carthay Pacific flight, they said, a Hong Kong man met them at the airport and took
them to a room in Kowloon district, where they were locked in for a time.
Later, according
to the victims, they were forced into prostituting for the brothel′s patrons from 07.00-02.00 each
day, and they were allowed only 2 small meals throughout the day. The victims said they called the
man who met them at the airport, begging him to help, but the man threatened them that if they
attempted to seek help from authorities the pair would be murdered along with their family in
Thailand.
According to the victims, they were told they were in debt for the plane tickets
that brough them to Hong Kong, and they must serve 200 customers to pay that debt, then they would
be paid 60 Hong Kong dollars (around 240 baht) for each patron they serve.
The victims said
they were forced to service around 40 men over the 3 days as sex slaves at the brothel. Many of the
patrons are reportedly Nepalese and Pakistani men. According to Ms. A and Ms. B, there was another
Thai woman who works willingly at the establishment, while some Russian and Chinese women were
also present at the brothel.
Eventually, the pair said, they escaped the brothel at 05.00 one
morning, and hailed a cab to Hong Kong airport where they stayed for 4 days, ever fearful of
retaliation by the brothel thugs. They said they later phoned Pavena Foundation for help and were
helped back to Thailand.
Ms. Pavena Hongsakul,
chairwoman of the Pavena Foundation, said at the press conference that human trafficking is a global
issue, which every organization must cooperate, not only the Ministry and the police.
Pol.Maj.Gen. Chavalit Sawaengphuech, director of the AHTD,
commented that legal cooperation between Thailand and Hong Kong would allow Thailand to investigate
on the issue and lead to arrest of the suspects. He added that the Ministry of Justice is working in
witness protection and compensation processes for the 2 victims.