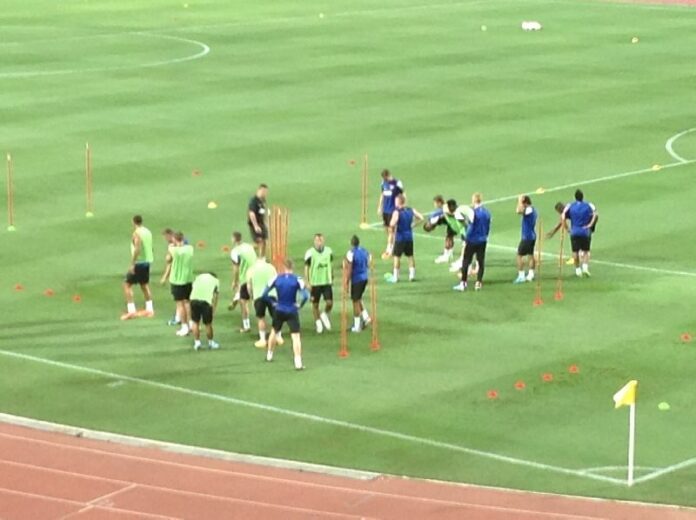 (12 July) Thousands
of fans gathered at The Rajamakala National Stadium for Manchester United open rehearsal before the
English team will play against Singha All Star on 13 July.
United manager David Moyes and
Rio Ferdinand held a press conference at the Rajamakala Stadium, before the open rehearsal.
Moyes clarified that Wayne Rooney has to fly back to Manchester unexpectedly due to
hamstring injury and that his rest would be a benefit to the team′s future schedules. He rejected
the rumour that Rooney is planning to move, as his heart is still at the theatre of
dream.
Moyes also said that he felt grateful to be appointed as the new manager of the Red
Devils, but admitted there are some pressures. However, he found the team atmosphere was great and
the players are getting along very well.
Talking about the upcoming game in Thailand, Moyes
said he appreciated warm welcome by the fans. He also expressed his excitement for the game, saying
it is among the first few games of his career with United. He said he expected some surprises and
would love to see the performance of Thai football stars.
Rio Ferdinand was asked about the
rumour on Thai social network that he knows the Thai rock band ?Bodyslam?. Rio answered that he
likes to learn about the countries he visits, and he has done some research what Thai locals are
listening too. Then he found the song Poison by Bodyslam, and suggested the band to other teammates.
Yet, he added, it is not like that I am the team official DJ.
Rio went on to
comment about the training with the new manager, explaining that it might get tougher than the time
with Sir Alex Ferguson.
Both the team and the manager are new to each other, and they both
need to do homework to be able to collaborate, the United star was quoted as saying.
A
member of security told our correspondent that approximately 7,000 fans have come for the open
rehearsal. The tickets to see the rehearsal were sold for 500 baht.