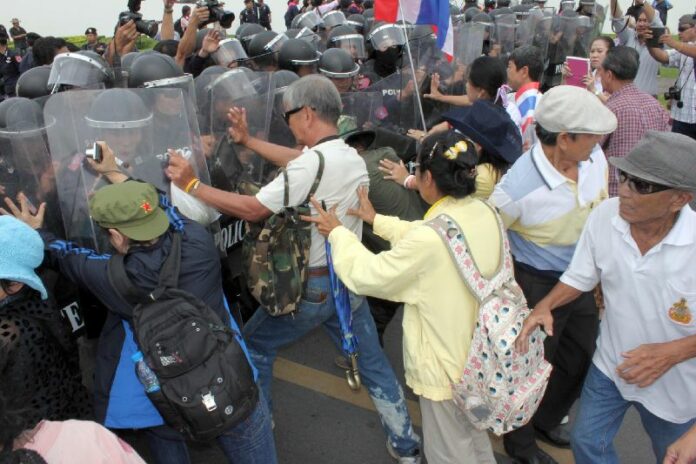 (12 July) The leader of
the Networks of Thai Who Love Their Nation which rallied against PM and Defence Minister
Yingluck Shinawatra in front of the Ministry of Defence yesterday (11 July) announced his group
would no longer cooperate with another anti-government faction.
The right-wing Networks had
been camping at the Royal Field (Sanam Luang) in Bangkok′s Old City quarters alongside the
ally group called Dharmatippatai (The Moral Power) for weeks.
Today Mr. Chaiwat Sintuwong
said in a press conference that his group had been in conflicts with Dharmatippatai before, and the
2 factions always managed to solve their differences.
However, he said, Dharmatippatai
greatly offended him by refusing to lend their hands in his group′s protest at the Defence Ministry
and even sabotaging the group′s campaign. On that day, Mr. Chaiwait unsuccessfully attempted to
ring the Ministry with his protesters to prevent Ms. Yingluck from entering the compound.
I
have asked for their help [Dharmatippatai] when we clashed with the police, but they did not come to
our aid. They insisted on their peaceful rally at Sanam Luang, Mr. Chaiwat said, adding that his
ally also contributed to lack of attention from the public toward their activities at Royal
Field.
Mr. Chaiwait told reporters that the 2 groups had difficulty bridging their
ideologies.
He denied reports that his group is behind the White Masks movement – the
weekly protests against Yingluck administration in Bangkok and elsewhere in Thailand, in which the
protesters sport Guy Fawkes Masks as their symbols.

Mr. Chaiwait also announced
that his group would withdraw from the rally at Royal Field, but insisted that his group would
continue to campaign against Ms. Yingluck′s government.