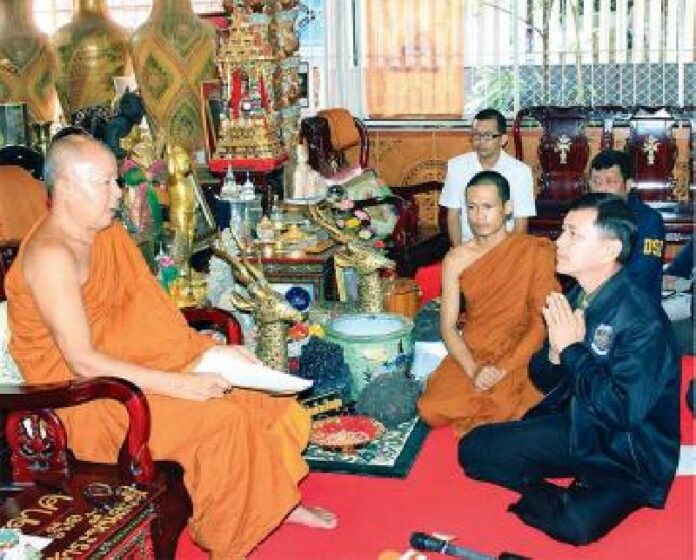 (13 July) Police are
attempting to have the US authorities cancel the US visa held by Luang Pu Nen Kham, the
controversial monk who made the headlines around the world with his Louis Vuitton bags and private
jet ride, and return him to Thailand to face numerous criminal allegations – following the national
Buddhist authority′s decision to expel him from monkhood.
The monk has been abroad since the
scandal about him surfaced. He is said to have flown from France to the US few weeks ago, where he
reportedly has a number of residences.
Nen
Kham, whose real name is Mr. Wirapol Sukhpol, is accused of money laundering and embezzling donation
money after he was exposed to own, with his followers, more than 200 million baht in bank accounts,
while TV reports recently showed his luxurious mansion with fleets of luxurious sports
cars.
Additionally, he is alleged to have sexual relationship with a woman, who was
reportedly underage at the time and later bore a child with him.
The religious authorities have previously
announced that his monastery in Si Saket province, Wat Pha Kantidhamma, is not properly registered as a
temple. They have previously demanded that Nen Kham return to Thailand and explain himself to the
investigation committee. That never happened.
After the deadline on Friday has passed, a
number of high-ranking monks of a provincial Buddhist chapter has conferred and reached the conclusion
that

The notice of his
defrocking will be submitted to the Sangha Supreme Council of Thailand , National Office of Buddhism
(ONAB), and the temples in Thailand and all over the world.
Director of Office of National Buddhism, Mr.
Nopparat Benjawatthananand, said the decision has paved way for the authorities to withdraw the
passport held by Nen Kham, now officially known as Mr. Wirapol.
Mr.
Tharit Pengdit, Director-General of The Department of Special Investigation (DSI), confirmed that
the DSI is attempting to revoke Mr. Wirapol′s passport, while
Pol.Col.Songsak Raksaksakul,
Director Bureau of Foreign Affairs and Transnational Crime, said that the police are collaborating
with the US Embassy in Thailand to have Mr. Wirapol′s visa revoked as well.
He said the
police are seeking formal arrest warrants from the court and will proceed to ask the US authorities
to return Mr. Wirapol to Thailand.
Mr. Wirapol′s whereabouts in the US remain
unknown.

On Friday, Mr. Sukhum Wongprasit, a spiritual follower of Mr. Wirapol
who has been serving as his de-facto spokesman, has filed an open letter to the office of the national
Supreme Patriarch, calling for justice for Mr. Wirapol. Mr. Sukhum insisted that the former
monk is innocent.
Mr. Sukhum also disclosed that Mr. Wirapol is aiming to enter
monkhood again in France or Germany.
Mr. Nopparat, the head of ONAB, later commented that
even if Mr. Wirapol managed to ordain himself at a Buddhist temple in France, he would not be
recognized as a monk in Thai legalism, as the Thai laws required that anyone wishing to enter
monkhood has to be endorsed by a local prelate.
He is already expelled from monkhood. He has
no right to become a monk again, Mr. Nopparat said, adding that should Mr. Wirapol continue to
identify himself as a monk, he would be liable to 1 year in prison on charge of violating Thai laws
on Buddhism.