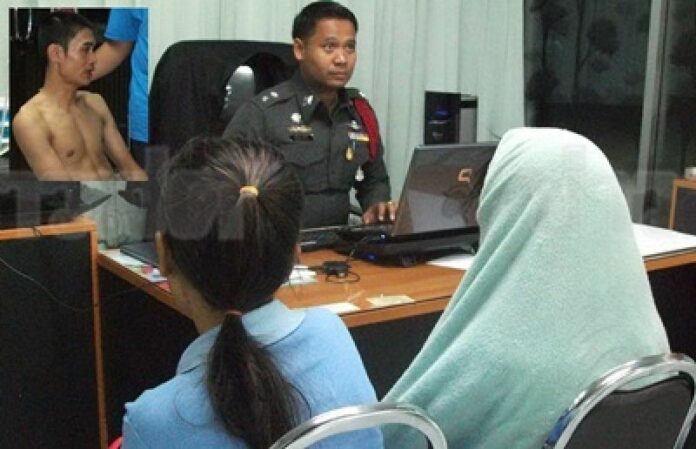 (15 July) A man in Samut
Prakarn province was mobbed by his neighbours after they caught him attempting to rape his 13 year
old adopted daughter at his residence.
The girl, identified as Ms. A, told police that Mr.
Mana Lue-Lonn, 28, has a drinking disorder, and always
knocked on her door when he is drunk. However, she never opened the door, as her mother warned her
not to.
Today, she said, Mr. Mana knocked on
Ms. A's door and asked to come out. She reportedly refused and went hiding in the closet until Mr.
Mana broke the door. As he tried to strip her,
Ms. A said, she screamed for help.
Mr. Mana then reportedly threatened her with a knife,
saying that if she made noises again he would kill her. Mr. Mana was allegedly about to rape Ms. A
when the neighbours who heard the scream came in rescue. The neighbours then attacked Mr. Mana
before taking him to the police .

The mother of
the girl told our correspondent that she and Mr. Mana recently had a conflict over Ms. A′s tuition
fee. After she had given the money to Mr. Mana to pay the fee, the mother said, he spent all the
money on alcoholic drinks. His wife reportedly became furiously upset and asked for divorce, but Mr.
Mana refused and tried to reconcile.
Previously, she said, Mr. Mana had told her he would
attack Ms. A if she still wants to break up with him. She reportedly raced back to her residence,
just in time to witness the incident of her neighbours beating Mr. Mana.
Officers were trying
to interrogate Mr. Mana, but the suspect was in a drunken condition and denied every allegations.
The officers then charged him for committing crimes under the influence, sexually harassing a child
aged under 15 and abusing a child.
Meanwhile, a man in Chonburi province was mobbed by his
neighbours after they mistook him for trying to rape his mentally-ill sister-in-law.
Mr.
Chaimongkol Pong-Eiam, a 34-year-old man from Chonburi, has been attacked by the locals after they
saw him pulling Ms. Som, his sister-in-law, to get on a motorcycle.
Mr. Chaimongkol
later said that he had no intention to rape Ms. Som, his sister-n-law who has mental disorder. While
his wife went to work, he said, Ms. Som then spilled her food on the table during dinner, so he
yelled at her and punished her so terrified Ms. Som ran away from the house.
He said
he was worried that Ms. Som would be in danger, so he came looking for her and tried to get her on a
motorcycle to go home. Witnesses said they thought he was forcing Ms. Som to get on a vehicles then
rape her, so they rushed to rescue Ms. Som and attacked Mr. Chaimonkol before calling the
police.

After some interrogation, Mr. Chaimongkol was not charged with any crime and
was released shortly afterwards.