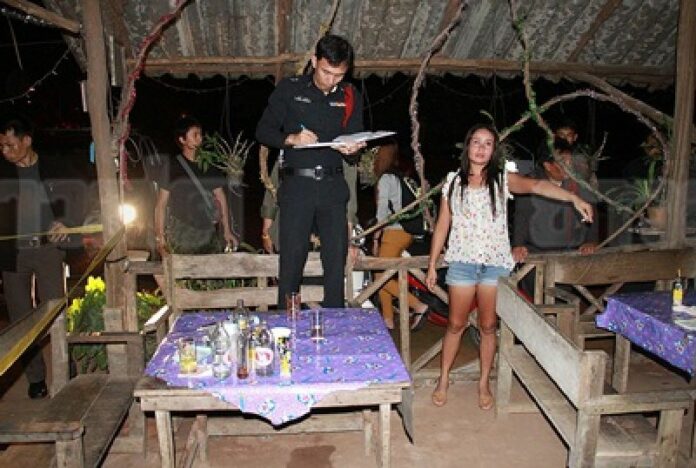 (15 July) A man was shot
dead after he reportedly smashed a whiskey bottle into the head of another patron at a karaoke bar
in Trad province. Another man was also shot in the face but survived.
The incident took place
at a restaurant, which also serves alcohol and offers karaoke services, called U-turn Karaoke, in
Mueng District.
Ms. Nid Nimsan, 30, the owner of the place, told our correspondent that the
shooting took place after midnight. The victim reportedly arrived with a group of 5 friends, sitting
on a table on one side, while the suspect was with his 3 friends and sitting on the other
table.
Later that night, Ms. Nid said, the victim walked around a lot, shirtless and drunk.
The suspect reportedly warned a friend of a victim that he should look after his drunken companion
more carefully.
After a while, Ms. Nid said, the victim suddenly smashed a whiskey bottle on
the head of the suspect, causing him to pull out his gun and shot the victim in the head. As the
victim's friends rushed in to help, the suspect allegedly shot at the group, hitting the cheekbone
of Mr. Thapakorn Kol-rean, 21.
The suspect later fled the scene on a black Toyota pick-up
truck.
Ms. Sunaree Tansomboon, a waiting staff at the restaurant, told the police that the
suspect is a dark and skinny man and approximately 178 cm tall. The police suspect that the gun used
in the scene was a .32 mm pistol.
The police are still searching for the suspect.