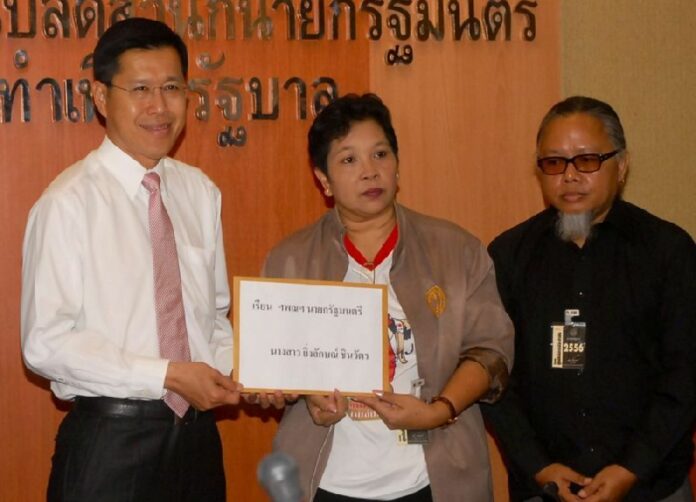 BANGKOK — The relatives of victims caught in deadly crossfire during the 2010 military crackdown on Redshirt protesters are urging the government to accept their own version of an amnesty bill.
The group, which calls itself "Families of April-May 2010 Martyrs," was led by Payao Akhard, the mother of a volunteer medic shot dead inside a temple on 19 May 2010, and Pansak Srithep, the father of a schoolboy killed in central Bangkok on 16 May 2010.
Pansak and Payao, accompanied by supporters, met with Vice PM Pongthep Thepkanchana at the Government House today to submit an open letter addressed to PM Yingluck Shinawatra.
The letter urges Yingluck to accept the draft of their amnesty bill, which calls for immediate amnesty to all protesters involved in political incidents from 19 September 2006 to May 2010, regardless of their political affiliation.
However, the bill would not exempt leaders of the Redshirt protests or those responsible for the deaths of protesters in the 2010 military crackdown, which left over 90 people dead.
The operation was authorized by Former PM Abhisit Vejjajeeva and Former Vice PM Suthep Thaugsuban. Both are facing charges of murder and attempted murder for their roles in the crackdown.
The group proposed their version of the bill as an alternative to the draft written by Pheu Thai MPs that would grant amnesty to everyone facing charges in connection with the crackdown, including the government, military commanders, and Redshirts leaders.
Pansak called any draft of the amnesty bill that exempts the military from legal prosecution "unacceptable."
Pansak argued that ordinary protesters from both Redshirt and Yellowshirt camps deserve amnesty because their political protests were the result of conflicting opinions, which is normal in a democratic system. However, he said the military must be held accountable for its excessive use of force, which resulted in deaths and injuries.
He also said that protesters who damaged private or public property should answer to the laws.
Speaking at the Government House today, Payao urged Yingluck to publicly comment on which amnesty bill her government would pursue, as the issue is a very important and being closely watched by society.