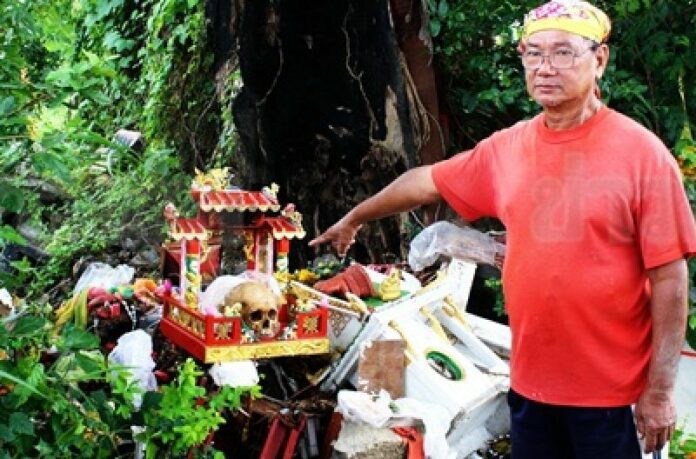 (15
July) Discovery of an anonymous human skull at a shrine in Ratchaburi province has drawn attention
from the police.
The police received reports about the skull from Mr. Yuan-on Saesow, 62. He
said he collected old stuff in exchange for money, and had searched for items at a large Bodhi tree
next to a canal in Suan Kuay district. A wooden Spirit House was built next to the tree, and Mr.
Yuan-on found the skull on the shrine. He said he immediately called police.
Police say they
had inspected the Spirit House and found that some offerings placed at the shrine, such as desserts
and flowers, appeared to be fresh. The skull contains some brain tissue in the cranium and small
patches of human hair can be found on the surface.
According to the police, no one in the
vicinity has reported any missing person.
The skull has been transferred to the forensic
department to determine the identity of the deceased person. The police believe the skull was
a part of certain superstitious rituals, and an investigation to find out who was responsible for
the ritual is ongoing.