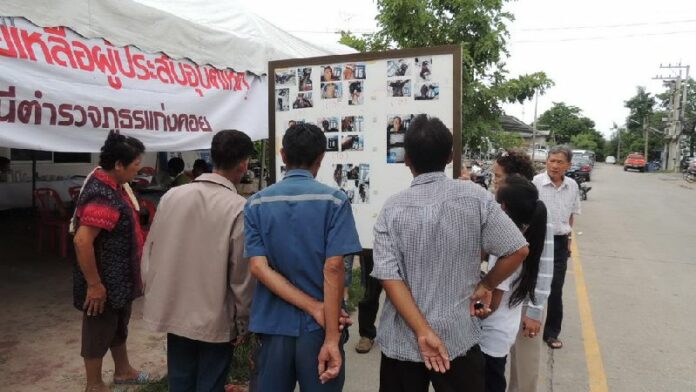 (23 July) Thailand is
reminded yet again of the danger on its roads after 19 people were killed in 2 separate incidents,
both involving 18-wheeler trucks and passenger buses.
The first accident took place in Kaeng
Khoi district of Saraburi province when a moving truck suddenly diverted sideways on one side of the
highway and crashed into an oncoming double-deck bus on the other side.
The bus, which left
Bangkok early in the morning with many passengers, reeled away from the impact and caught fire
shortly afterwards, trapping victims in the vehicles. 15 people were reportedly died in the flame,
including the driver and a 3-year-old child, while the bodies of 4 other victims were found near the
bus.
23 people managed to escape and survived with some injuries. They were later taken to
Kaeng Khoi Hospital.
The truck driver, identified by the police as Mr. Sa-aad Boonyung, 29,
was among the severely injured, and has been admitted to the hospital under close supervision of the
police. The police suspected that Mr. Sa-aad fell asleep while driving, which made him lost control
of his truck.
One the same day, in Nadee district of Prachinburi province, another tour bus
crashed into an empty 18-wheeler truck. The accident left 3 people injured.
The bus driver,
Mr. Thong-An Angmanee, 59, told the police that there were 50 passengers on the bus headed to
Pattaya from Ubon Ratchathani province. While the bus was travelling at high speed uphill, he said,
he did not notice the truck, which was obstructing the far-left side of the road after it suffered
an accident.
He then reportedly crashed the bus into the truck, causing the lower part of his
bus torn off. The accident caused the injuries of Mr. Kamthorn Sirikul, 20, Ms. Warapon Makpim, 21
and Mr. Kanok Singhatong, 13. Reports say that they have all been sent to the Nadee
hospital.
The bus driver and the 18-wheeler truck driver, Mr. Perm Mungkinklang, 41, were
questioned by the police. Investigation is ongoing.