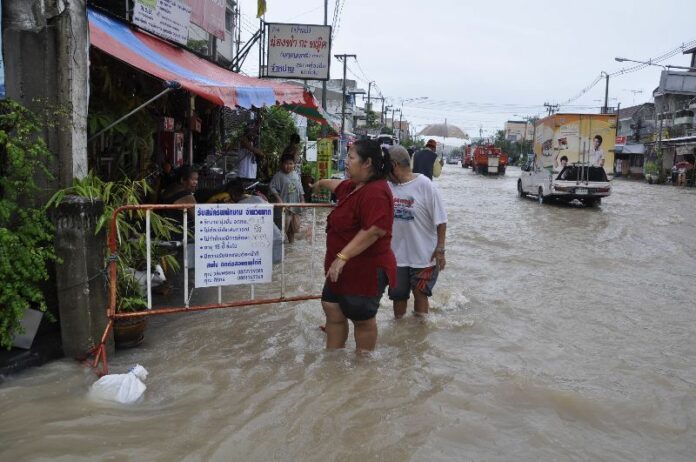 (23 July) The
much-anticipated candle parade celebrating start of Buddhist Lent season in Nakorn Ratchasima
province became a victim of heavy rain and flood in the area.
According to Buddhist
doctrine, monks had been required to spend every night in their temples and monasteries for 3 months
during the annual rainy season, lest they venture out and damage farmers? rice fields in their
paths.
Buddhists donate large candles to local temples at the start of the Lent season. But
some provinces, including Nakorn Ratchasima, featured parades that carry gigantic candles, carved
exquisitely into shapes of mythical creatures and other figures.
This year, the start of
Buddhist Lent in Nakorn Ratchasima was accompanied by particularly heavy rainfall throughout the night,
causing flood in many areas. Some roads were completely cut off due to the sudden flooding.
Local authorities struggled to relieve the situation. Manholes were unplugged to quicken flows of
water, and these spots were guarded by officials to make sure no one step into the
drains.
Meanwhile, soldiers in the provincial Camp Suranari were forced to tear down sections
of walls around their camp that locked flooding water inside the installation like a dam. The flood
inside some parts of Camp Suranari was reported to be as high as 2 metre before the soldiers managed
to solve the crisis.

Mr. Winai Buapradit, the governor of
Nakorn Ratchasima province, said that the authorities would discuss how to prevent such flooding in
the future.
In the meantime, local authorities were forced to postpone the candle parade,
which boasts towering carved candles submitted by more than 50 teams of craftsmen.
Officials
said the annual light-and-sound show in the evening might be cancelled, too, out of safety concerns
for visiting tourists, citing the sprawling electric cables around the performance area that might
turn deadly due to the flood.
Throughout the rain-soaked day, locals and
tourists
gathered – umbrellas in their hands – around Lady Suranari Monument to take good look at the
craftsmanship of the candle parade that was parked nearby. Many expressed disappointment because
they had come a long way to witness the famed event.
The event later
kicked off, albeit raggedly, around 16.00 when the heavy rain slowed down to bearable
showers.
Nevertheless, officials said the torrent of rain benefitted the local farmers, as it
helps increase the water level in the reservoir for agricultural purpose, which had been reportedly
storing only 33% of its capacity prior to the rain.