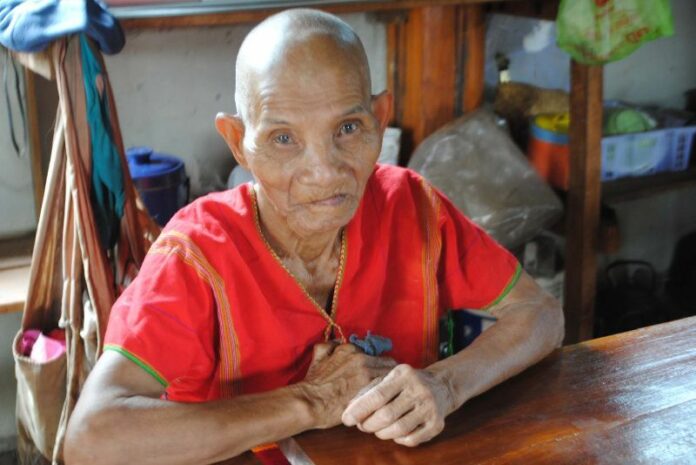 (22 July) The tribesman
who was said to be 119 year old has passed away at his home in the northern mountainous province of
Mae Hong Sorn.
The body of Mr. Kamu Thongnamchokedee was found lying face down in his residence,
according to a local official at Mr. Kamu′s village in the remote Pang Ma Pha district. Mr.
Kamu′s relatives are holding a 3-day funeral in accordance with the local religious
belief.

Ms. Naruemon Pannwat, the governor of Mae Hong Sorn province, told our correspondent that
she was in grief upon hearing the news. She said she already had visited the village and paid
tribute to Mr. Kamu at the funeral.

The governor revealed
that the provincial authority had recently been in contact with Guinness World Record, to verify Mr.
Kamu′s age and list him as the oldest person after Mr. Jiroemon Kimura, the former Japanese
postman who previously held the record, passed away at age 116 years old.
Mr. Kamu is also
believed to be older than Ms. Misao Okawa, a current record holder from Japan thought to be the
oldest person alive at the age of 115 years old. Now that Mr. Kamu is dead, the verification process
might never take place.
Nonetheless, Mr. Kriangkrai Intapaj, a sheriff in Pang
Ma Pha district, claimed that there were other elderly individuals who have lived over a century in
Mueng Pamm village, where Mr. Kamu lived.
The 2 ladies are Ms. Nhojordor Wanawanich, said to
have lived for 117 years, and Ms. Nongmeko Ratana-arayatham, reportedly 105 years old. Both women,
like Mr. Kamu and the rest of the village residents, belong to the local ethnic group of White
Karen.
However, it should be noted that the age of these individuals is not yet
independently verified.