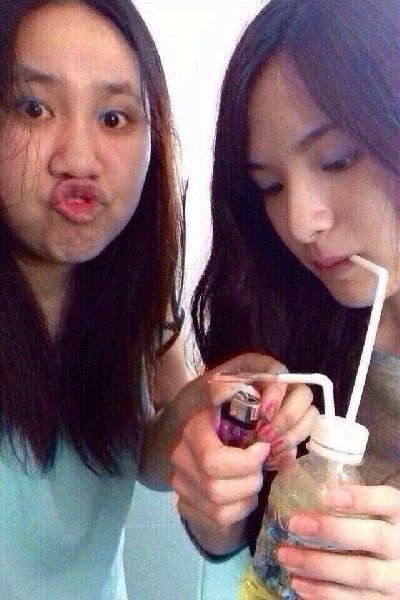 (27 July) The revelation
that a rising young actress of a popular teen series had been photographed as she was taking
methamphetamine took a dramatic and bizarre turn after a top politician insisted that the actress
did not do any drug, contrary to her father′s confirmation that she did.
Pol.Gen. Pongsapat
Pongcharoen, director of the Office of the Narcotics Control Board (ONCB), also told the press that
no trace of any illegal drug was found in young actress′s body according to the lab result. He said
his agency is no longer treating the 16-year-old starlet as a potential drug abuser.
With
legal requirement lifted, Khaosod can now report that the young actress in question is Ms.
Sutatta Udomsilpa, better known to her fans as Pan Pan. Khaosod was previously barred from
identifying her by real name due to the publishing regulation which prohibits identifying underage
criminal offender.
Pan Pan is currently best known for her role in Hormones, the
series about group of teenage students coping with various adolescent issues, including the more
controversial actions like having sex and smoking in school.
Such frank portrayal instantly
distinguished Hormones, which is aired weekly on a cable channel, from the largely
conservative mainstream media in Thailand. Perhaps not surprisingly, move does not come without
controversy. A member of the media regulatory board expressed his wish to censor the show on the
ground of inappropriate content.
For now, though, Pan Pan is battling a different kind of
controversy – out of the silver screen. She has not spoken to the media ever since a photo
purportedly showing her taking meth makes an O-shaped mouth to the camera surfaced on the internet,
and her father confirmed the photo′s authenticity in a press conference.
She did not speak
to the press throughout another press conference convened by Labour Minister Chalerm Yoobamrung
neither. In that press event, she appeared with her father, Mr. Surasakdi Udomsilpa, flanked by Mr.
Chalerm and Pol.Gen. Pongsapat.
Mr. Chalerm told the press that ONCB has invited Pan Pan for
medical check-up at Rama IX Hospital to test for drug, and the lab result showed no residue of
methamphetamine in her body system.
We can now conclude that Nong Pan Pan was never
involved in narcotics, Mr. Chalerm said, adding that the controversial photo might have been
doctored.
As for her father admitting that his daughter did take drug, Mr. Chalerm
hypothesised that Mr. Surasakdi was shocked and confused by the photo, so there might have been some
miscommunication.
Mr. Chalerm did not allow the reporters to ask any question, nor let them
talk to Pan Pan and her father during the press conference. The young actress herself cried silently
with her head bowed down throughout the event. Mr. Surasakdi escorted her out as soon as the press
conference was finished.
Before getting in his car, however, Mr. Surasakdi said to trailing
reporters that he insisted on what he initially told the press. He repeated apology to the public on
behalf of his family.
I have always taught my daughter: we can lie to everyone, but we
cannot lie to ourselves, Mr. Surasakdi said emphatically.
He said he does not plan to set
any curb on Pan Pan′s behaviour but has already told her to be more careful in her life. As for her
acting career, Mr. Surasakdi repeated that she would take a break for now. Asked about the source of
the photo and how it was leaked, Mr. Surasakdi said he never asked Pan Pan about it. We would
probably never discuss about it again as well, because it has brought a great impact to our family
he added.

The reporters mentioned a rumour that
the leaker of the photo had sold the image to a press agency in exchange for 50,000 baht. Mr.
Surasakdi replied that if that is true, he would have gladly paid 100,000 baht to the leaker in
order to keep the photo away from the media.
The internet is still buzzing with discussion
about the strange turn of event, especially on the unexpected appearance of Mr. Chalerm who – as the
Labour Minister – has no visible connection to the scandal. Many questioned why he suddenly brought
Pan Pan and her father to the press conference and gave an account that completely contradicts with
Mr. Surasakdi.
Mr. Chalerm has been known as loud and incoherent, and he sometimes speaks to
the press in a manner that, for some, resembles an intoxicated individual. His poor handling with
sensitive issues, like the Southern Insurgency, is rumoured to have convinced Prime Minister
Yingluck Shinawatra to demote him from Deputy Prime Minister to the relatively low profile post at
Ministry of Labour.
Discussions on the internet also touched on a well-reported celebrity
gossip that Pan Pan had been dating a nephew of Mr. Chalerm. It is not immediately clear if the
connection is relevant to the ongoing controversy.