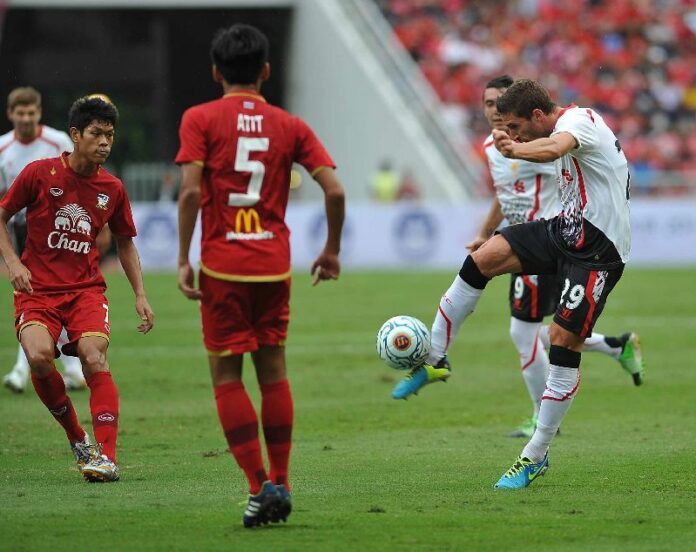 (28 July) An anti-Manchester United banner seen at the match where Liverpool football club kicked off against Thai national team in Bangkok earlier today has fired up controversy in the social network because it invokes the 1958 Munich air accident in which 8 United players lost their lives.
The banner, held up by 2 individuals wearing Liverpool shirts, was written in poor Thai-English language. Its content reads: "Alex Ferguson. Out working. Go to Hell. 20 = โกง (cheat). Munich 58".
The authors of the banner seems to encourage Sir Alex Ferguson, who recently retired (out working) as Manchester United manager, to go to hell, and suggest that the 20 league titles won by United are work of cheating.
The identity of the individuals remain unknown, but many Liverpool fans distanced themselves from the pair in their comments on the social network. The banner was mostly attacked for being insensitive to the tragedy of the Manchester United history, and for showing yet another abysmal English skill of Thai populace to the world.
Liverpool FC is the third English premier league star to visit Thailand and take the field against its players; the kingdom has already welcomed Manchester United and Chelsea in previous weeks.
Apart from the offensive banner incident, many Liverpool fans agree that the match, played at Rajamangla National Stadium in eastern Bangkok, was definitely a fun one. Liverpool easily beat the Thai national team with score of 3-0, delivered by Philipe Coutinho, Iago Aspas, and Steven Gerrard.
The match was broadcast live on Channel 3 TV; however, by 19.00 the the closing moments of the match were abruptly cut off by live broadcast of ceremony at Sanam Luang (Royal Field) to mark the 61st birthday anniversary of the Crown Prince, leaving many viewers slightly bemused .