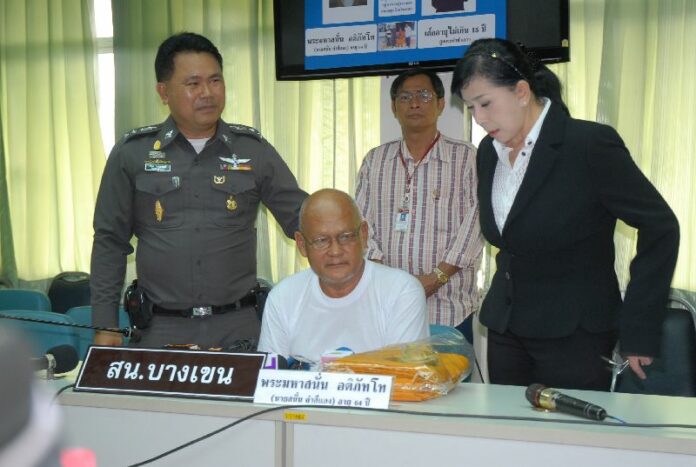 (28 July) Police arrested
a monk accused of raping a 14-year-old girl. The monk confessed to the crime, saying he was under
influence of alcohol.

Phra Mahasanan Atipatto, 64, was hiding in Phayao province when
the police apprehended him, following complaint from the girl that she had sexually assaulted her at
his former temple, Wat Bang Bua, in Bang Khen District of Bangkok.
The girl told police the
monk lured her to visit him at his temple in April this year by promising her free food, an offer
she said she accepted because her family was in poverty. The monk reportedly raped her there before
paying her 80 baht and threatening her not to tell anyone.
In spite of what happened, she
said, she continued to visit the monk for food, due to her family′s financial situation. But
she said she had taken care not to be with the monk alone during those visits.
On 28 May,
however, when Phra Mahasanan reportedly called the girl to visit him for free food again, the girl
came to see the monk with her 2 friends. The monk then asked the girl to buy him some alcohol so she
went out buying the alcohol, leaving her friends with the suspect, according to the
victim.
When she came back,she said, she saw the suspect touching her friends, so she ran
inside, dropped the items on the floor and headed for the exit. Unfortunately the monk allegedly
grabbed her and raped her again while her friends managed to escape.
The girl told
investigators she was worried that she might be pregnant, so she consulted her friends about buying
contraception pills. The words of the incident finally reached her mother, who contacted
Pavena Foundation, a charity group for women and children in distress, for help.
Ms. Pavena
Hongsakul, Social development and Human Security Minister and the director of Pavena Foundation,
reported the incident to the police, and they later arrested Pra Mahasanan at Wat Tung Ruang Tong
temple in Chun district, Phayao province, where he was hiding.
The monk was promptly
defrocked and charged with raping a child age less than 14 years old. He confessed to his crime, and
claimed that he was unconscious under the influence of alcohol.