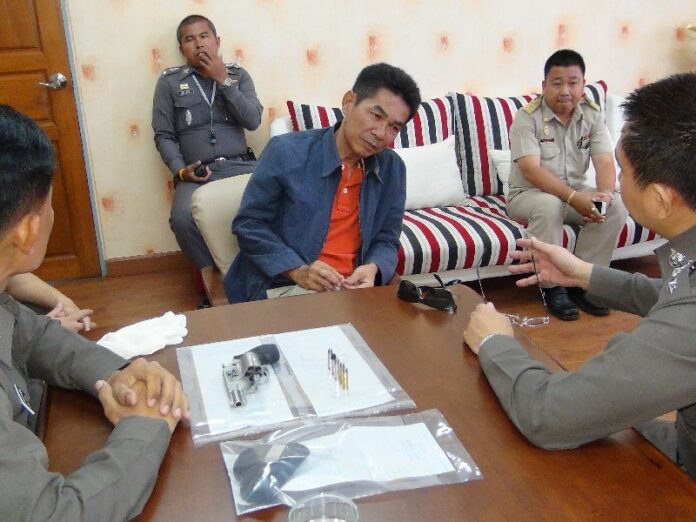 (29 July) A man confessed
to murdering a bureaucrat in Chonburi province, saying that he found it unacceptable that the victim
was having affairs with his wife and insulting him afterwards.
Police were first alerted of
the murder that took place in Samed District (not to be confused with Samed Island of Rayong
province). At the scene, the police found the body of Mr. Taitoon Sunthornwongsa, 34, with gunshot
wounds on his neck and his back.
Early investigation revealed that Mr. Taitoon, an official
working for Chonburi municipality, was standing outside his pickup truck, which he had just parked
in front of his office. A minute later, a car then parked behind Mr. Taitoon′s car. Its driver got
off and shot Mr. Taitoon at close range.
Once Mr. Taitoon fell down, the suspect shot him
again for 3 more times, before fleeing the scene.
Few hours later, Mr. Nattapol Yimpakdee,
50, arrived at the police station in Samed District and identified himself as the shooter of Mr.
Taitoon. He also brought the handgun he said he used in the crime.
Mr. Nattapol told police
he and Mr. Taitoon had been in rouble for some time already, as Mr. Taitoon was having affairs
with Mr. Nattapol′s wife. The suspect said he had chided Mr. Taitoon for his action, but the victim
reportedly challenged him by threatening Mr. Nattapol with the gun he carried.
The suspect
said he felt greatly disrespected by the gesture, so he pre-emptively shot Mr. Taitoon dead
today.
I have told him, if you are a true man and truly loves my wife, just tell me and I
will give her up for you, but he insulted my honour, Mr. Nattapol told police
investigators.
The police had conducted tests on the suspect′s gun and fingerprints, and
charged him with murder. The police said Mr. Nattapol would face court trial in Chonburi
soon.