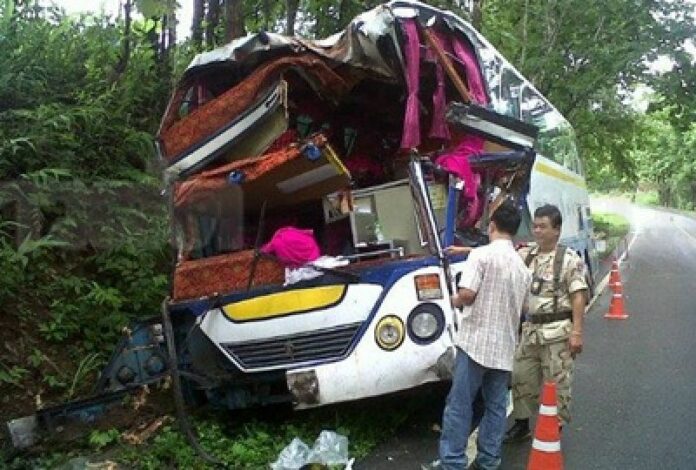 (31 July) A tree fell and
hit a bus that was travelling to Mae Hong Son province.
Fortunately, only 2 passengers were
injured, along with the driver, in the latest accident involving inter-provincial buses in Thailand.
Mr. Anan Chalorngpraiwal, 35, the bus driver said that his tour bus was heading to Mae Hon
Son province from Bangkok on Highway 108.
Suddenly, at around 5.30 am, the giant tree cracked
down onto the bus, he said, crashing near the driver's seat. Mr. Anan then unsuccessfully tried to
control the bus as it slid to the other side of the road.
Two injured passengers are Ms.
Patdharat Khanta, 31, from Mae Hon Son province, and Ms. Nualsri Kamyod, 70, from Chiang Rai
province. Both of them suffered the injury on their legs, but Ms. Patdharat also suffered broken
arms.
The two passengers were reportedly sitting behind the driver's seat, and are now under
the supervision from medical team at Mae La Hospital.
Travelling by inter-provincial buses is plagued with routine accidents, sometimes fatal.
Just few weeks ago, the nation was in shock after a bus accident in Saraburi province killed 19
victims.