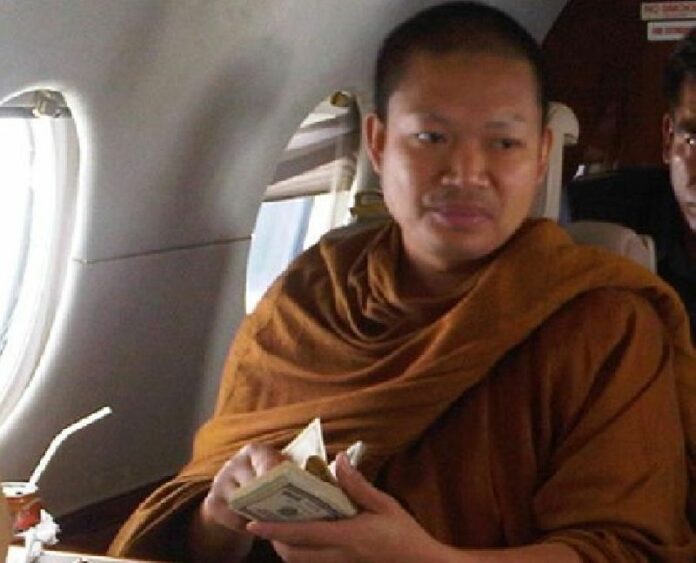 (1 August) The effort to
extradite the ex-monk charged with numerous offences from American soils continues, as the chief of
Division of Special Investigation (DSI) discussed the issue with United States immigration
officials.
The suspect, known before his defrocking as Luang Pu Nen Kham, is believed to be
residing in the US. The DSI has charged him with frauds, money laundering, and sexual assault on an
underage woman.
Today, Mr. Tharit Pengdit, the director of DSI, met with representatives from
Immigration and Customs Enforcement (ICE) of the United States to discuss about extradition
procedure of the ex-monk, who is now known by his pre-monkhood name as Mr. Wirapol Sukpol.

Mr. Tharit said after the meeting that the ICE is committed, on the basis of
the US law, to help bringing Mr. Wirapol to face his legal trial in Thailand.
Regarding our
close cooperation, the ICE has confirmed that the requests from DSI will succeed soon Mr. Tharit
said in referring to the request DSI made to ICE to send Mr. Wirapol back to Thailand. However, he
declined to elaborate any further, saying he would not discuss the operation in details.
Mr.
Tharit stressed that the DSI has been earnestly investigating the case and monitoring information
about the fugitive ex-monk.
The DSI is also moving to investigate Mr. Wirapol′s numerous
spiritual supporters, he said, because they are responsible for holding assets and donation money
worth tens of million of baht.
The DSI is working to trace the money trail, Mr.
Tharit added.
Before the controversy, Luang Pu Nen Kham had been a self-styled magical monk
residing at his monastery in Si Saket province. Many of his followers are police officers,
businessmen, and bureaucrats. During the height of his influence, he is believed to have raked in
massive wealth and luxurious goods via donation.
Luang Pu Nen Kham had been relatively
unknown to the general public until a video of him riding on a private jetplane – with a Louis
Vuitton bag, no less – surfaced on the internet. Much of the public was enraged at the video, as his
behaviour appears to run against Buddhist dogma of a humble monkhood, and police investigation was
launched against his wealthy lifestyle soon afterwards.
He was reported to be in France at
the time. He had not been in the country since the scandal erupted.