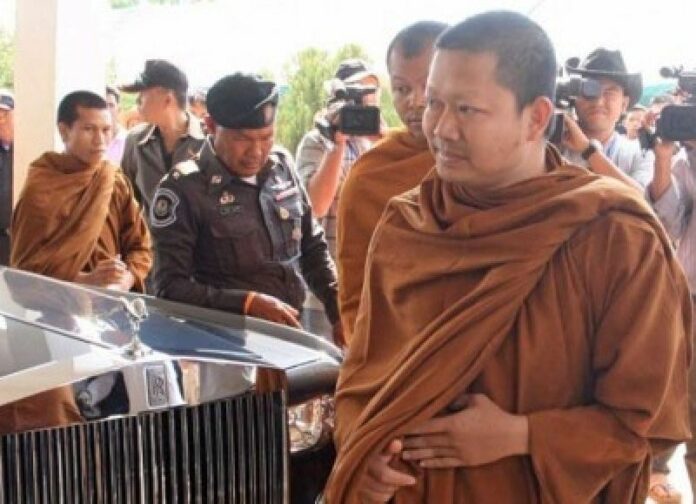 (5 August) The former
monk wanted by Thai police for alleged frauds and sexual assault will meet with the Division of
Special Investigation (DSI) on 8 August according to his lawyer, the DSI chief
said.
The DSI has argued that Mr. Wirapol Sukpol had been involved in possible money laundering
and frauds during his tenet as an influential monk based at his secluded monastery in Si Saket
province, where he was revered as a Luang Pu (elder monk) despite his relatively young age.
He had also been charged for sexually abusive an underage woman.
Mr. Wirapol is
believed to be residing in the United States, after the court issued arrest warrant on him. The DSI
has been cooperating with the US authorities in order to have the former monk
extradited.
Now, it appears that such effort would not be needed, as Mr. Tharit Pengdit, the
chief of DSI, said he had been contacted by the appointed lawyer of Mr. Wirapol who had reportedly
assured him that his client wishes to turn himself in later this week – on 3 conditions.
Mr.
Tharit said Mr. Wirapol had requested that he is to meet with the DSI chief personally, that he
would be released on bail after the surrender, and that the DSI treat his case with
justice.
The DSI chief told our correspondent that the DSI will definitely fulfil Mr.
Wirapol′s, as DSI investigates with fairness, and allow suspects to bail themselves
out.
Mr. Wirapol can surely be released on bail if he could affirm the DSI that he will not
leave the country or attempt to disrupt the investigation in anyway, Mr. Tharit said.
Mr.
Tharit added that he believed Mr. Wirapol is currently hiding in one of Thailand′s neighbouring
countries, and he is considering whether to travel to Suvarnabhumi Airport or through the land
border crossing.