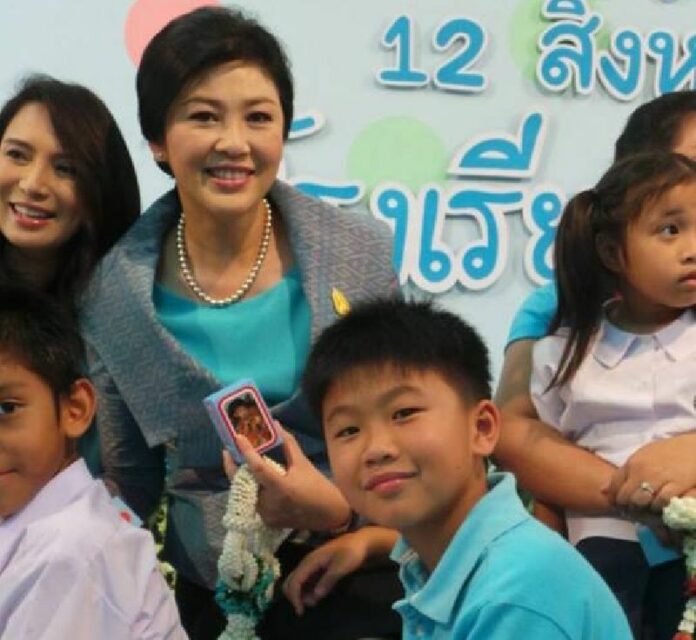 (7 August) Prime Minister
Yingluck Shinawatra took some hours off from her busy schedule and joined her son on Mother′s Day
ceremony at his school.
Mother′s Day falls on 12 August every year, which is also celebrated as Her
Majesty the Queen′s Birthday, but many schools organise Mother′s Day events much earlier. The events
typically feature a ceremony in which selected students presenting filial greetings and flowers to
their mothers in front of the class.
Ms. Yingluck attended such ceremony at Na Darun School
where her son, the 12 year old Suppasek Amornchatra, is studying.
The event gave Ms. Yingluck
a short break from the particularly tough morning, as the anti-government protesters marched
to the House of Parliament in Bangkok and the debate on the controversial Amnesty Bill was about to
rage in the Parliament.
Nevertheless, Ms. Yingluck managed to tease the crowd of waiting
reporters as she arrived at the school, cheerfully telling the reporters not to get so caught up
with the protests that there is no space in the newspapers for the event at school.
Joining
the teachers, students, and other parents, the Prime Minister sang the Royal Anthem, and listened to
a poem praising Her Majesty the Queen written by a student.
Later, Suppasek gave his mother
a jasmine garland, and a little gift he made by himself. He also wrote his mother a short essay
saying that he looks up to her and thinks she is pretty and precious to him like a diamond.
He told the reporters that he is "grateful" that his mother can have some time for him. I
love my mom, Suppasek said shyly.
The Prime Minister said when she had a tough day at work,
he would come to her and give her a hug once she′s home. Ms. Yingluck said she is very proud to see
her son growing up and having good manners. My work is made easier because I don?t have to worry
too much about my son, she added.
Since he considers Ms. Yingluck as his idol, the reporters
asked Suppasek, would he one day become a politician as well?
The boy quickly shook his head
and answered No, sir!.