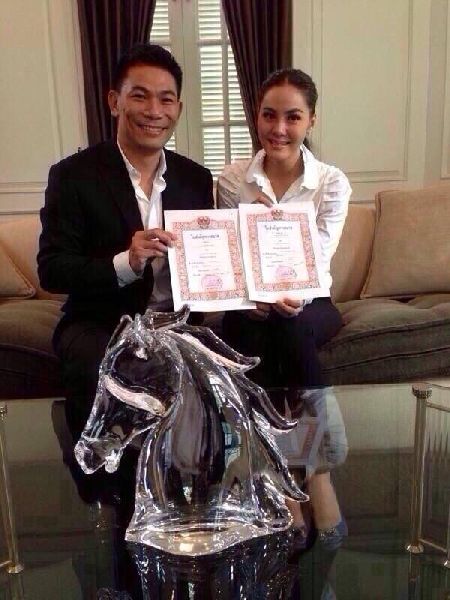 (8 August) The Thai
public appears to be momentarily distracted from the ongoing political battle by the surprise
announcement of marriage between a famous actress and the son of a former politician, who is currently
on the run from Thai authorities.
After weeks of intense rumours and speculation about their relationship,
Ms. Janie Thienphosuwan and Mr. Chonsawad Assavahame finally spoke out on the matter in a press
conference at Mr. Chonsawad′s mansion in Samut Prakarn Province.
Although juicy gossips about
celebrities? relationships are common occurrence, the case of Ms. Janie is intriguing for many Thais
in its own right: not only is Mr. Chonsawad known to be married to an award-winning singer, he is
the son of Mr. Wattana Assavahame, the former leader of the now disbanded
Pheu Phaendin Party convicted of corruption cases.
In 2008, Mr. Wattana, as
Minister of Interior Affairs, was found guilty
of for conspiring with his colleagues to illegally buy and sell lands in Samut Prakarn Province for
a 23 billion baht wastewater treatment plant operated by the government.
Mr. Wattana
escaped his sentence during his release on bail. His whereabouts remain unknown, and Thai authorities
had vowed in the past to hunt him down.
No question about Mr. Wattana was raised today
throughout the press conference at Mr. Chonsawad′s family estate, where he stunned the nation by
announcing that he and Ms. Janie had just married hours earlier. They showed their wedding
certificates to the press, pointing to the time of 09.09 – a time deemed auspicious by the
couple.
Seated next to Ms. Janie, Mr. Chonsawad also apologised for keeping the relationship
a secret for so long, and said that everything happened because of love. He also denied rumours that
Ms. Janie is pregnant with his child, and showed the document from a hospital about Ms. Janie′s
health as a proof.
As for his ex-wife, Ms. Nanthida 'Too' Kaewbuasai, he said they had never officially
registered for marriage in the first place, and they had been virtually separated for 10 years now.
We only stayed together for the sake of our child, he said.
Asked about the dowry, Mr.
Chonsawad said his entire life from now on is the dowry for Ms. Janie. Nevertheless, media reports
indicate that Mr. Chonsawad also gave Ms. Janie a 7 karat diamond ring.
Meanwhile, the first
wedding gift to the newly weds was an order issued by the Division of Special Investigation (DSI) for
the couple to appear before its detectives in order to be questioned about Mr. Wattana′s
whereabouts.
The order came after a few days after a leaked photo showed Ms. Janie and Mr. Chonsawad with Mr.
Wattana at an unidentified place, believed by some netizens to be a hotel in Macau.
Mr.
Tharit Pengdit, chief of the DSI, said that it is his duty to look for fugitive convicts like Mr.
Wattana. If the former minister is confirmed to be hiding abroad, he said, the DSI will seek
cooperation from that nation′s government for extradition of Mr. Wattana.
Mr. Tharit′s
comments came few days after an official at the Office of Attorney General suggested that the police
should do more in locating Mr. Wattana. The case also received notable attention in much of social
network, where commentators grumble that the Thai police are never capable of bringing ig names
to justice.
Not everyone welcomes the attention Ms. Janie and Mr. Chonsawad are receiving, however.
Some anti-government activists complained that the news divert citizens? attention away from the
fierce debate on draft of government-sponsored Amnesty Bill in the Parliament.
The draft
promises legal absolution to protesters charged with or serving the sentences for crimes they
allegedly committed during 2010 Redshirts protests in Bangkok. Opposition party and its allies view
the draft as an attempt to whitewash criminal thugs who attacked soldiers and ?burned down the
city?.
Mr. Suriyasai Katasila, the coordinator for anti-government Green Party, posted on his
Facebook criticising Thai society for being obsessed with the marriage of Mr. Chonsawad and Ms. Janie when they
should be concerned with the Amnesty Bill debate.

But I think the Thai society is not
going to give amnesty to Janie, though, Mr. Suriyasai noted with humour, referring to some netizens
who accuse Ms. Janie of marrying for the money and stealing someone′s husband.
The leadership
of People′s Force for Democracy to Overthrow
Thaksinism (Pefot), which is staging protests against the government, has gone even further, posting
on their Facebook that the news about Ms. Janie and Mr. Chonsawad is result of conspiracy engineered
by former Prime Minister Thaksin Shinawatra to bury the issue about Amnesty Bill.
The
Facebook post also alleges that Matichon Group, owner of Khaosod, receives Mr. Thaksin′s money to
publicise the news about the couple.