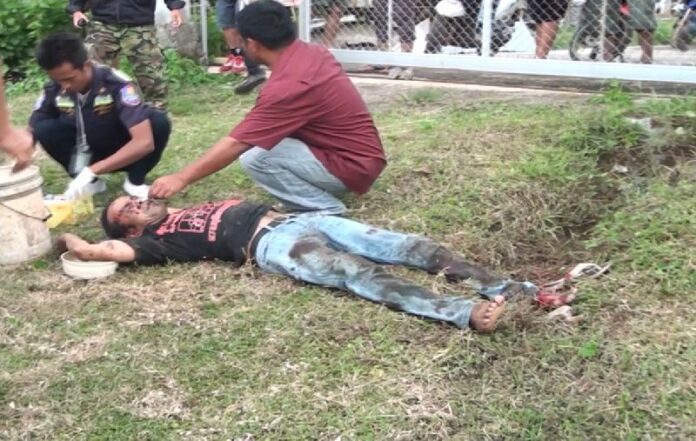 (8 August) A bodyguard of
the bombastic Redshirts leader Mr. Kwanchai Pripana was injured after he encountered an explosive on
the lawn of the radio station frequently visited by Mr. Kwanchai in Udon Thani
province.
Mr. Jaroon Suphata, 45, encountered the explosive when he was digging at the lawn outside
the radio station, according to the police. One witness told our correspondent that Mr.
Jaroon was making a watercourse before he noticed a piece of roof-tile, which has been suspiciously
left on the ground.
He later used the shovel to lift it up and suddenly the bomb exploded,
severely wounding him in the two legs and the abdomen.
Mr. Kwachai, who serves as the
provincial representative for the National United Front of Democracy Against Dictatorship (UDD), was
not in the area at the time, as he was in Bangkok to observe the anti-government protests. It is not
clear why Mr. Jaroon did not accompany Mr. Kwanchai to Bangkok.
Speaking from Bangkok, Mr.
Kwanchai said that he had heard about the incident and is travelling to visit Mr. Jaroon as soon as
he can.
The Redshirts leader, known for his aggressive and confrontational behaviour,
suggested the incident is politically motivated, saying that he and his fellow activists are only
fighting for democracy but many people are using harmful weapons to eliminate us.
He and
his friends are victims of a deadly political game, Mr. Kwanchai said, and he claimed that a few
days earlier someone has placed a bomb just outside his house, but the explosive was
inactive.
Mr. Kwanchai vowed that he would do whatever he could to bring justice, since Mr.
Jaroon is his personal guard.
However, Mr. Kwanchai himself is also facing a different legal
issue in Bangkok, where he was seen wearing riot police uniform near the protest sites without clear
authorisation from the police force. Media reports suggest that he might be subject to criminal
investigation.