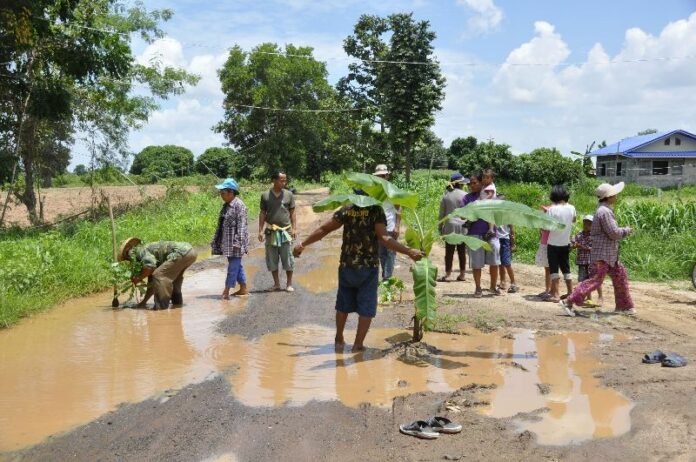 (13 August) Many
residents in in Nakorn Ratchasima Province said they had complained repeatedly to the provincial
authority about the condition of local roads which are dotted with holes and puddles. The roads
would be more useful as farmland, the residents complained.
So far, the provincial officials
showed no hurry to fix the matter. A group of protesters, mostly villagers in the area, made their
point today by sarcastically planting banana trees along the stretch of roads near Baan Nong Phuang
village.
Many kids fell on their bicycles around here said a villager hey could not go to
school, because their uniforms were covered in mud.
The protesters also complained
that the Provincial Electricity Authority (PEA) and the Pho Klang Municipality have not been
providing electricity to Baan Nong Phuang village.
One villager told our correspondent that it has
been 10 years since the PEA promised them that they would be able to use electricity. It never
happened. The only thing we can do is to illegal connect the electricity from other village, he
said.
The villagers said they hope that these banana trees planted on the road would finally
attract some attention from related authorities to come and provide better infrastructure in the
village.