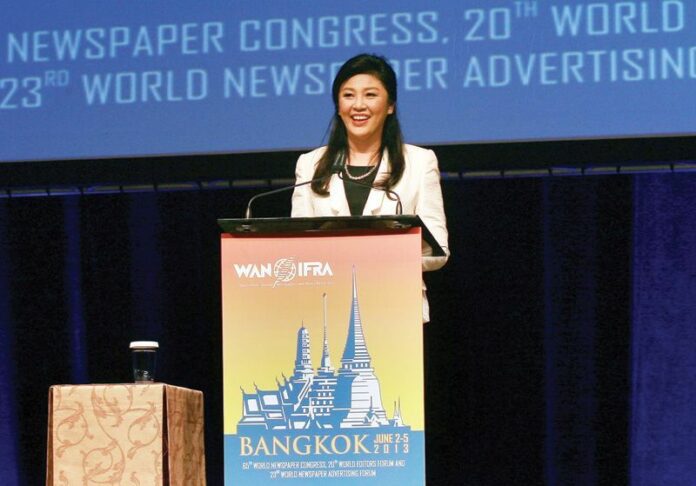 (14 August) The
technology crime police′s proposal to snoop chat logs of the popular ?LINE? application has drawn
widespread opposition, including from some close associates of Prime Minister Yingluck Shinawatra.
Pol.Maj.Gen. Pisit Pao-in, commander of Technology Crime Suppression division, claimed
yesterday (13 August) that he has dispatched officials to Japan, where LINE is based, to request chat log
data of individuals suspected of committing crimes.
He said his agency would use a software
to detect suggestive words in the communication networks such as arms trading, drugs selling,
fake goods, or prostitution.
Thailand has over 15 million Line users. Surely I cannot
monitor them all, so we will only focus on those who violate the laws on social network,
Pol.Maj.Gen. Pisit said.
He added that the division would also seek out those who criticise
the monarchy or pose other threats to the national security. Discussion of the Royal Family is
criminalised under lese majeste law in Thailand.
As for other social network outlets,
Pol.Maj.Gen Pisit said he had requested cooperation from administrators of WhatsApp, Youtube, and
Facebook but those requests had been largely ignored. Japan, on the other hand, tends to be more
cooperative, he mused.

The news –
understandably – ignites a fury on the Thai social network. Many view the proposal as an intrusive
measure against individuals? rights to free expression and privacy, while others say they are
reminded of the ongoing controversy about Prism surveillance program conducted by the United States
spy agency.
The chairwoman of the National Human Rights Commission (NHRC), Ms. Amara
Pongsapitch, said the program suggested by Pol.Maj.Gen. Pisit is highly at risk of violating
individuals? privacy. If the authorities should go ahead with the plan, she said, the aim and
process of the program should be strictly defined.
The Democrat Party also spared no time
before lashing out at the proposal – for a somewhat different reason. Ms. Mallika Boonmeetrakoon,
deputy spokeswoman of the Democrats, said instead of intruding citizens? Line communication the
government should in fact focus on shutting down websites and blocking Facebook pages that contain
offensive content about the Royal Family.

It should be noted that the proposal to monitor Line application is
the latest addition to dubious records of free speech under the administration of Ms. Yingluck,
which disappointed many of its supporters who hoped the government would show more tolerance toward
freedom of speech than its predecessors.
Just last week, the police summoned 4 individuals,
one of them a high profile editor at a TV channel, to talk with the officials because they spread
rumours about an imminent military coup, just as anti-government protests were about to take place in
Bangkok.

As for the use of lese majeste law, while
it is true the royalist Democrat Party is more keen on punishing the discussions on monarchy (in
November 2011, for instance, Ms. Mallika demanded that the Yingluck administration completely block
Youtube and Facebook because of offensive contents posted there), the ruling Pheu Thai Party does
not show any sign to reform or repeal it neither.
Mr. Anudit Nakornthub,
Minister of Information and Communications Technology (ICT), went as far as saying that anyone who
even ?liked? or ′shared? offensive materials on the social media could be punished by computer crime
laws – a remark that drew sharp criticism from internet rights advocacy
groups.
Contacted by
Khaosod, Pol.Maj.Gen. Pisit said the concern of civil rights groups has been overblown. He said
that human rights and privacy of ordinary citizens will not be affected by the plan, because only
those suspected of breaking the laws would be targeted.

Ms. Yingluck herself told the reporters at a press conference later in the day that she
has not studied the surveillance program in details, but said there is a need to monitor
communications for threat to national security.
She repeated Pol.Maj.Gen. Pisit′s insistence
that rights and liberty of ordinary citizens would not be in danger
Nonetheless, perhaps
sensing the intense unpopularity of the program, some allies of Ms. Yingluck went on the record to
criticise the plan to monitor LINE chat logs.
Mr. Panthongtae Shinawatra, the son of former
leader Thaksin Shinawatra and a niece of Ms. Yingluck, wrote on his Facebook that chat application
is a tool which could be used for both legal and illegal purposes, so an attempt to enforce the laws
should take care not to affect other citizens who are not part of the wrongful
actions.
Police in this era should be friendly to the people. Please don?t copy the playbook
of the Democrat Party, Mr. Panthongtae said.
Meanwhile, Mr. Siriwat Jupamatta, a
representative of the Redshirts? official organisation in Payao Province, said he disagreed with
Pol.Maj.Gen. Pisit′s plan because it will violate rights to communication and only serve to alienate
the government from its supporters.
Mr. Siriwat warned that if the technology crime
suppression police continue to create an atmosphere of fear for internet users, many would be more
radicalised and vent their political frustration in platforms more dangerous or uncontrollable than
the social network.
Mr. Anudit, the ICT Minister, similarly voiced his opposition to the LINE
monitor program. He said his agency would not assist the Technology Crime Suppression police about
the matter.

LINE representative in Thailand
said in a statement that the company has not received any formal request from the police, and
insisted that the company will not give its data to the Thai authorities as it prizes the privacy
of our users.