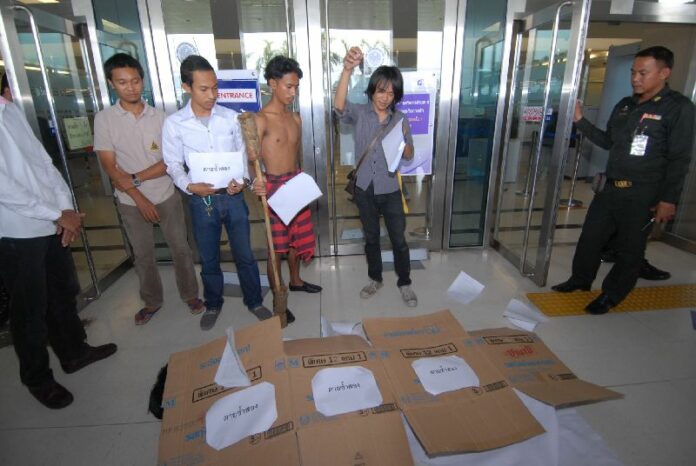 (15 August) Secretary of
Student Federation of Thailand (SFT) and 20 other students gathered at the government complex on
Chaengwattana Road this morning to protest against the National Human Rights Committee
(NHRC).
The group charged that the report from NHRC about the military crackdown on the
Redshirts protesters in 2010 was distorted and biased.
Mr. Suphat Asasri, the
secretary-general of the SFT, said that the report implied that that the government under then-Prime
Minister Abhisit Vejjajiva could rightfully use the military force against the
protesters.
They also criticised how the committee members were chosen by the junta-backed
government in the wake of the military coup in September 2006.
Obviously, they are
obstructing the progress of democracy in Thailand, Mr. Suphat said.
Mr. Suphat continued,
"The work of the NHRC is widely unacceptable because they apply double standard. We are asking
the committee to resign, and we would like the next committee board to come from a public
election."
After a while, Mr. Khanchai Konsane, the secretary of the NHRC, came out to meet
the protesters. The group then read their statement before tearing the report on 2010 unrest to
pieces.
The student also performed a short skit depicting how the military personnel shot
dead civilians in 2010 before dispersing peacefully.
"It seems like the report from NHRC
killed those deaths twice" said one of the protesters explained during the skit.
Some of the
banners proclaim that "The National Committee Protecting the Privileges Rights", "Quit NHRC! You
abused the dead" and "What are they telling us? NHRC knows nothing about Human Rights" – the last
one is a reference to the remark of Ms. Amara Pongsapitch, the chairwoman of the NHRC.
In a
televised debate last week, Ms. Amara said that the Redshirts protesters in 2010 were rural folk who
don?t know anything about human rights.