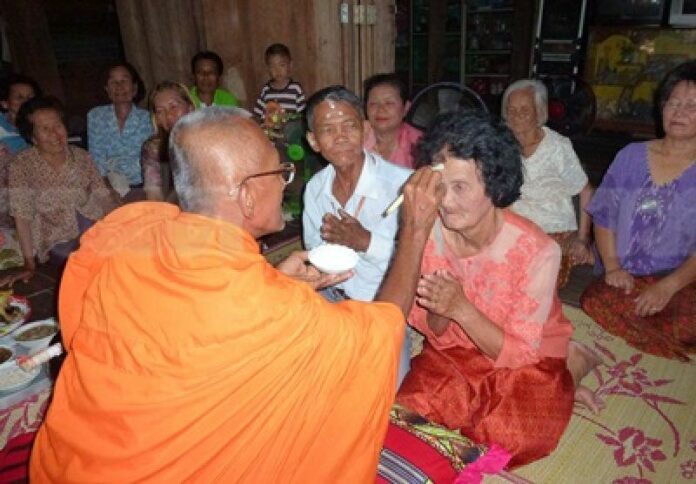 (16 August) It is never too late to tie the knot, according to Mr. Suthin Thaitae, 70, who married his wife Ms. Woon Woonmaesod, 75, today after he finally proved to her family that he can be a good husband.
The couple from Mueang District, Tak province, met 10 months ago when Ms. Woon was working as a volunteer cook at the Wat Lan Huai Dua Temple Fair. According to Ms. Woon, when Mr. Suthin first came to visit her, her family was really against it.
"I had been a widow for 10 years, after my former husband died." Ms. Woon recalled, "and when I started to see Mr. Suthin, my family said it is shameful that I start seeing someone when I am this old"
However, Mr. Suthin did not give up, and his persistence paid off after he had been dating Ms. Woon for the next 10 months.
He proposed to Ms. Woon. This time, Ms. Woon′s family was no longer against Mr. Suthin anymore, because, they said, they trust that Mr. Suthin can look after Ms. Woon as they grow old together.
Today, the groom paid a dowry of 9 baht to Ms. Woon′s family. He believed that number 9 would bring his new family success. He then paid another 20 baht to the ?gatekeepers?, relatives of the bride according to Thai wedding tradition, to enter his bride's house before taking her to the ceremony.
At the wedding, monks gave the newlywed couple blessings. The family then asked Mr. Suthin to show his love by kissing Ms. Woon on her cheek. Ms. Woon, obviously a traditional and shy woman, refused, but Mr. Suthin kept trying many times, until both the groom and the bride were exhausted. Ms. Woon's daughter had to pass her an inhaler, as they feared Ms. Woon would pass out.
Both Mr. Suthing's and Ms. Woon's families wished the groom and the bride happiness, and hoped that they would look after each other well for the rest of their lives.