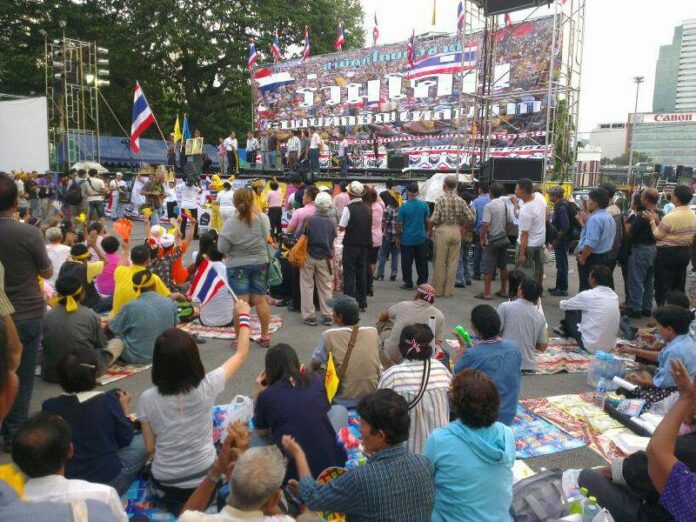 (19 August) Senior Democrat MPs visited the 'People′s Army Overthrowing Thaksin
Regime' protests at Lumpini Park yesterday, and praised the protesters for "their contributions to
the country". Meanwhile, the 'White-Mask' activists also joined the protests, making the atmosphere
at Lumpini Park visibly more animated.
The Democrat Party MPs, namely Ms.Kanlaya Sophonphanit , Ms.Jermmas Juenglertsiri, Mr.Korn
Chatikavanich and Mr.Kasit Piromya, also brought the protesters some instant food and camping
items.
Ms.
Kanlaya, the chairwoman of the Democrat Party, took the stage and told the crowd that she had been
working in the Parliament for 3 days and 3 nights to oppose the Amnesty Bill. She announced that she
would like to support the protestors for their contributions for the country, and to eliminate
Thaksin's Regime.
She
also told the protestors to fear no one, as they were doing their best for the country, religion and
the monarchy.
Mr.
Korn, former Finance Minister, said that as an MP, he contributed to his work in the parliament, but
as a Thai person, he is willing to stand by the People's Army.
Just before the MPs visited the park, a
group of 'White-Mask Protestors' moved from Central World shopping mall – their usual weekly rally
site – to Lumpini park to join with the so-called People's Army.
Additionally, the leader of the People's
Army announced its plan to start a campaign to raise support throughout Bangkok, starting from 20
August.
Mr.
Thaikorn Polsuwan, the leader of the group, said that the group will move to Silon area to invite
more people to join their protest, and on 21 August they will go to the Constitutional Court to
support the court′s works against Thaksin′s Regime.
On 22 August, the group will go to the Office of the National Anti-Corruption
Commission, he said. There, the group will submit a request to call Ms. Yingluck Shinawatra, the
Prime Minister, and Mr. Pracha Promnok, the Justice Minister for investigation ecause they had
violated Criminal Law.
According to the group, the PM and Justice Minister were guilty for not charging Mr. Tharit
Pengdit, the Chief of Division of Special Investigation (DSI), after Mr. Tharit used inappropriate
words in the press conference, referring to Ms. Yingluck incorrectly as the Head of
State.
And
on 23 August, the group will visit the Royal Thai Army headquarters to call for their support to
protect the country from Thaksin's Regime, according to Mr. Thaikorn.
Mr. Thaikorn said that the group is trying
to manage their visits to these agencies in the way that affects the traffic in Bangkok as little as
possible.