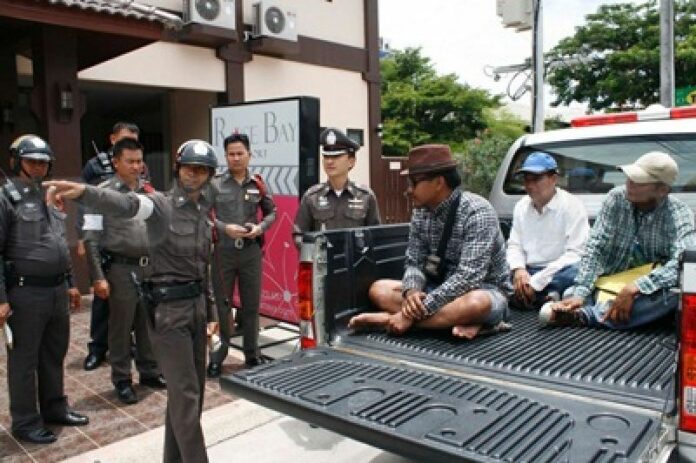 (18 August) Police officers have arrested the individuals suspected of belonging to an
extortion gang in Pattaya after they have besieged a police officer who asked them to stop extorting
money from the citizens.
Ms.
Wipada Gankhem and her family told our correspondent they were being forced to pay a parking fee of
60 baht at an alley near a place called Big Eye Show in Pattaya. Just then, they said, a police
officer intervened and told the individuals to stop harassing Ms. Wipada and her
family.
Pol.Sgt.Maj. Somsri Sima, who was in charge of the parking space, said
he told the group politely that the space belongs to public highway, and they had no right to
charge people for parking there. However, the group reportedly mobbed the police officer and
threatened to attack him.
The
officer then called for backup team. Once they arrived, the gang quickly dispersed, but not before
the officers managed to arrest 4 of them: Mr. Saenrak Meesutha, 48, Mr. Akrawat Rungruengkit, 26,
Mr. Montree Chetjai, 30, and Mr. Suriyan Khongdai, 30.
The suspects were charged with interfering with police duty and insulting a
police officer.
Mr.
Suriyan and Mr. Montree also confessed they had taken illegal drugs, after their urinal result
indicate the use of illegal substances.