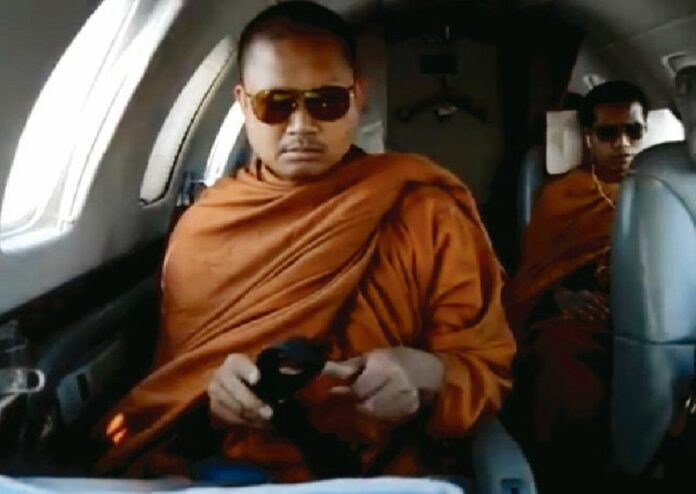 (22 August) DNA test
revealed that the fugitive ex-monk wanted for frauds and sexual assault on an underage woman has
indeed fathered a child, according to the Division of Special Investigation (DSI).
Mr.
Wirapol Sukpol, formerly known as Luang Pu Nen Kham, is currently in hiding after his luxurious
lifestyle was reported in the media – including a spectacular video showing him on a private
jetplane – and the DSI found traces of potential money laundering and other frauds committed by him
and other members of the sect.
Mr. Wirapol was also accused of sexually assaulting a woman
who was a minor at the time. The 24-year old woman said her 11-year old son was fathered by Mr.
Wirapol. The DSI added that allegation to the arrest warrant on the former monk.
Mr. Tharit
Pengdit, the Chief of the DSI, said Mr. Wirapol would certainly face a legal prosecution, as DNA
test from his saliva indicated that his DNA matched the boy claimed to be his son.
Dr. Anake
Yomchinda, the Director of Central Institute of Forensic Science, said that the DNA test was
performed on the sample of Mr. Wirapol′s saliva, which had been left on a cigar end, allegedly
passed on to one of Mr. Wirapol′s former spiritual followers.
The DNA test bears an accuracy
of 99.99999%, Dr. Anake added.
Mr. Tharit said the evidence would help the DSI to achieve an
extradition of Mr. Wirapol from the country he is believed to be hiding.
It is not clear
where Mr. Wirapol is. Media reports have previously indicated that he was in the US, but the DSI
later said he was in Laos and was ready to surrender to the Thai police. That never
happened.
Additionally, the DSI is gathering information to prosecute Mr. Wirapol for fraud,
after nearly 50 people claimed they had lost money to the ex-monk in total of approximately 100
million baht, according to Mr. Tharit.
Meanwhile, Mr. Sukij Poonsrikasen, the lawyer of Mr.
Wirapol, said Mr. Wirapol insisted that he will soon give himself in. However, Mr. Sukij added that
if Mr. Wirapol decided to prolong the case, he would stop representing Mr. Wirapol.
Mr. Sukij
also raised concerns that the cigar end used for the DNA test may be false evidence, as it had been
given to the police from Mr. Songkran Atchariyasap, a leader of a group campaigning for Mr.
Wirapol′s arrest.
Our correspondent had also contacted Ms. A, who alleged that she gave birth
to Mr. Wirapol's son 11 years ago. Ms. A told our correspondent that she was not surprised to hear
such result, as the child was a son of hers and Mr. Wirapol's.
She said she would pursue
legal prosecution against Mr. Wirapol's brother, Mr. Suri Sukpol, after he reportedly insulted her
and sought to give her 1 million baht in exchange with her silence.