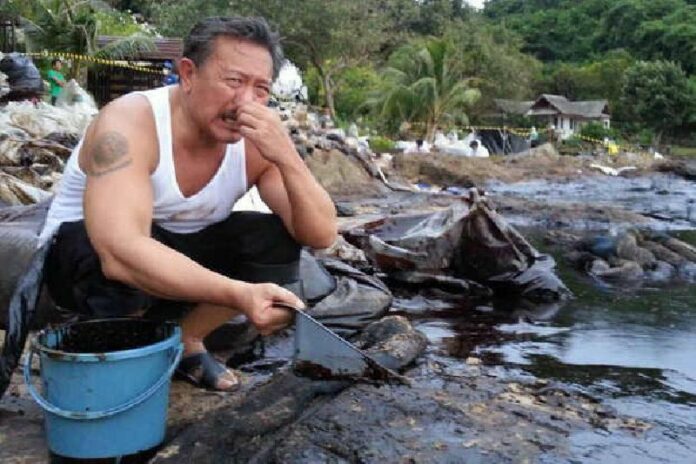 (24 August) A month after
the oil spill in Gulf of Thailand that blackened the seas around Koh Samet, a popular tourist resort
island, vendors in the area say they are still enduring casualties on their business caused by the
incident.
For instance, Baan Pe Market, which
is normally crowded with tourists buying seafood fished from the sea and taking the ferry to the
famous island, is now visibly quieter than usual, our correspondent at Prachachart
reported.
Vendors at the market said fewer tourists arrive at the island, which is located
just several hours of ferry ride away from Baan Pe. Uncle Nong, a seafood vendor at the market, said
he usually earned 6,000-7,000 baht a day selling food at his shop, but that has slowed to 1,000 a
day.
I have never seen anything like it in 30 years that I spent in Baan Pe, he said,
adding that many tourists refused to eat the seafood in the market, fearing that they are
contaminated by the oil spill.
Aunty Surie, another seafood vendor, also lament about sharp
decrease in her business, and criticised the authorities for helping the fishermen but ignoring
merchants along the shore like her.
The media is to blame, Aunt Surie charged, saying that
the news reports about the oil spill greatly exaggerated the effect of the spill. The impact only
rests at Ao Phrao, she said, referring to the hardest-hit beach in Koh Samet, other areas have no
problem. Seafood here is safe to eat. Why doesn?t the media report about that?
A worker at
the Baan Pe piers estimated that around 1,000 tourists took the ferry from Baan Pe on typical
weekends, but nowadays fewer than 300 tourists show up. Most of them are foreigners, he
said.
He also blamed the media. They are scared by the news you report.
Aunty Surie
agreed with the worker, telling our correspondent that while Thai tourists are scared of the oil
spill, foreign tourists keep coming.
However, a reporton
the New York Times revealed that, despite rescue operations by the Thai authorities to clean up the
oil residue and assure the public that all is well, the environmental impact on Koh Samet is far
from over.
The report says even the water around Ao Phrao is declared unsafe by the Thai
authorities, after several politicians swam in the sea to prove their point that tourists can be
merry again at the beach.
The report also notes that many foreign tourists at Koh Samet are
not aware of the oil spill incident. One of them, from China, is quoted as saying that if she had
known about it she would have reconsidered her trip there.