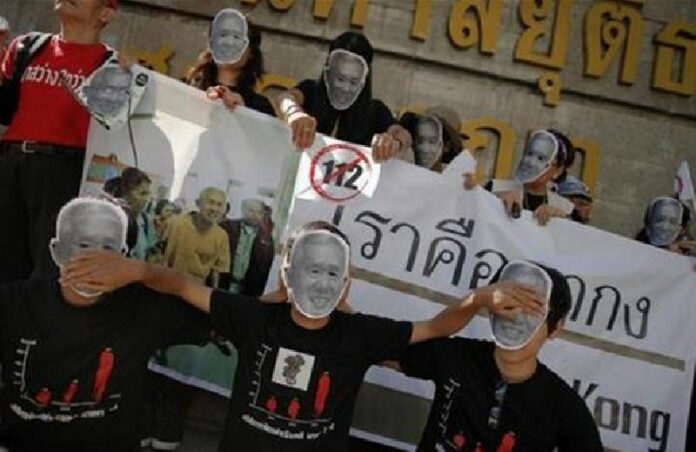 (1 September)
The Asian Legal Resource Centre (ALRC) has released a statement criticising the Thai authorities? continuous suppression of discussion about the monarchy under the lese majeste law.
While
Section 112 of the Criminal Codes criminalised insults or threats against members of the Royal
Family, ALRC noted that the law appears to be used in constrict[ing] freedom of expression and intimidate citizens critical of the
monarch.
The Hong Kong-based group, which operates under the Asian Human Rights Commission,
also denounced the fact that those accused by lese majeste are often denied bail or basic legal
rights to fight their cases fairly, even though many individuals suspected of committing violent
crimes manage to secure a release on bail.
It cited the case of Mr. Amphon Tangnoppakul,
a.k.a. Uncle SMS, who was convicted of sending offensive sms texts and sentenced to 20 years in
jail. Mr. Amphon later died in prison after his health deteriorated.
The case of Mr. Somyot
Prueksakasemsuk, a former magazine editor who was found guilty of lese majeste contents in articles
that he claimed he did not write, was also mentioned.
The ALRC concludes its statement by
calling on the Thai government to revoke the lese majeste law and the computer crime law which
similarly criminalised the discussion about sensitive topics such as the monarchy.
The
statement surfaced shortly after the Criminal Court agreed to grant a bail release to a vendor who
was charged with lese majeste in 2006 for selling 2 book titles deemed offensive to the monarchy.
His next trial is scheduled to take place on 7 October, reports Prachatai.
The 2 book titles are the
Devil′s Discus, an English language book printed in 1964 and unofficially translated into
Thai a decade later, and an issue of (Thai language) Samesky magazine which deals on
political aspects of the monarchy.
The Devil′s Discus offers an account about the
death of King Rama VIII, claiming that he killed himself with a handgun because the Royal Family
barred him from marrying the woman with whom he was rumoured to have romantic relationship.
As the prosecution has noted in its court filing, the book did not mention any role of the
current king, but it nonetheless argued to the court that the book is somehow insulting toward His
Majesty the King.