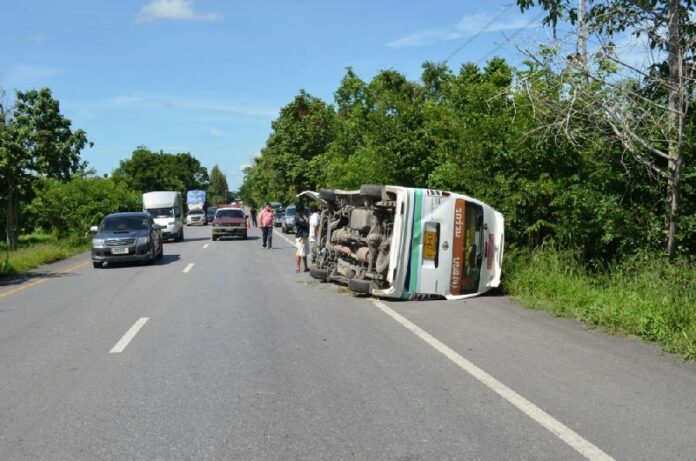 (3 September) A public
minivan slid off the road on Cha-Am – Pranburi Road, causing 6 injuries including the
driver.
The van was running on the Bangkok – Prachuab Kiri Khan van route.
First aid
was provided by rescue team to Ms. Kanchana Wongchan, 23, Ms. Pakklong Sakullim, 57, Ms. Bang-Orn
Ngarmburi, and Mr. Samroung Gleebgluea, 44. Rescue workers and some civilians transported the
injured to Cha-am Hospital
Mr. Anulom Detchpanyanarong, 40, the minivan driver, confessed
that he fell asleep while driving, causing the car to slide off the road.
Police will
further investigate the accident, and took Mr. Anulom under custody, after charging him with
reckless driving.
Thailand has seen frequent accidents involving the minivans, especially the
unregistered vehicles which are driven at high speed by unqualified drivers. Just last week, an
illegal van crashed into the back of 18 wheeler truck in Chachoengsao Province, killing 9
victims.