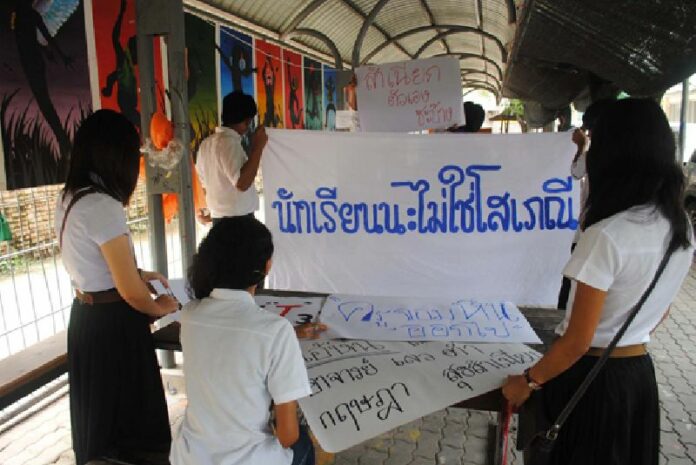 (6 September) The court
has acquitted Khaosod and other defendants of defamation charges filed by a university lecturer after
the newspapers published
allegations of sexual harassment cases involving him and his students.
In October 2012, 4
female students at Bansomdejchaopraya Ratchapat University (BSRU) filed a complaint to the police in
Bangkok Noi District, alleging that their lecturer, Mr. Krisada Suksumniang, had sexually harassed
them in different occasions.
The students then put up posters complaining of Mr. Krisada′s behaviour and
misconduct around the university campus. A number of media outlets – Khaosod, Thai Rath, and Channel 7
– gave the incident extensive coverage.
Mr. Krisada, who taught classes on traditional
Thai music at the time of the incident, later sued the 3 news agencies along with the 4 students in
defamation lawsuits.
Yesterday (5 September) the Thonburi Criminal Court delivered its
verdict on the charges. The judges noted that Mr. Krisada was eventually investigated and found
guilty of his alleged actions by the university′s disciplinary committee. The committee also
discharged Mr. Krisada from his position.
Therefore, the court concluded, the allegation put
forth by the 4 students concurred with Mr. Krisada′s actions, and did not amount to a conspired
attempt to defame the former lecturer.
The court also praised the 4 students for their
sacrifice in speaking out about the matter in order to warn other students of Mr. Krisada′s
inappropriate behaviour and to prevent others from being sexually harassed by Mr.
Krisada.
As for the media′s coverage of the event, the court ruled that the 3 news agencies
named as defendants by Mr. Krisada were lawfully reporting the news and expressing their criticism.
The court then acquitted all defendants named in the lawsuit.