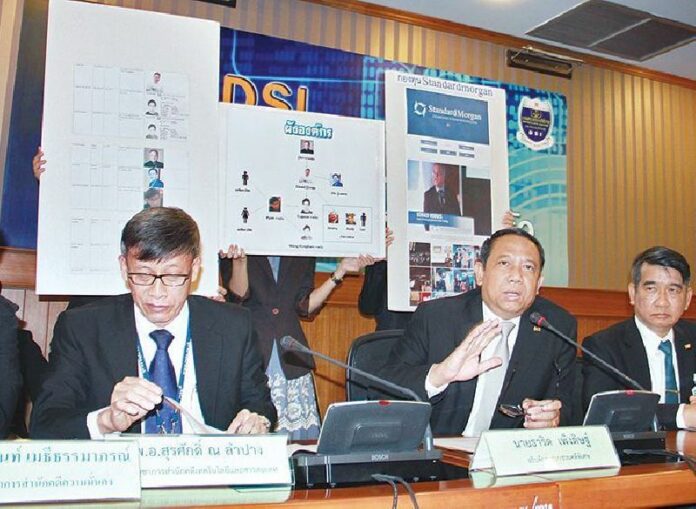 (5 September) The
Division of Special Investigation has announced an inquiry into a Bangkok-based fraudulent
investment fund.
The investigation followed a complaint by the Security and Exchange
Commission (SEC) that over 300 investors had lost around 500 million baht to the bogus
company.
The company in question is named Standard Morgan. It claimed to have headquarters
in Switzerland and boasted an operational history of 35 years. The fund alsocelebrated the grand
opening of their intangible business on at Centara Grand Hotel, Bangkok, on 23 October
2012.
According to the company′s advertisement, investors would gain 9% profit each
month from planned investment in Oil, Gold and Stock in the company's global portfolios. Some of the
customers may earn more – up to 12% a month, the company claimed – if they lured in more
investors.
Former customers of Standard Morgan told the SEC that they are provided with
username and password to log in to the system, where they can then withdraw the interest gained from
their capital.
However, since August 2013, they could not withdraw the money. The company′s
office (believed to be in Bangkok) and phone number then became unreachable.
According to the
DSI, 8 Singaporeans and 1 American were registered as the board of the company. The DSI said it is moving to freeze 15 million baht in dozens of
bank accounts owned by the company.