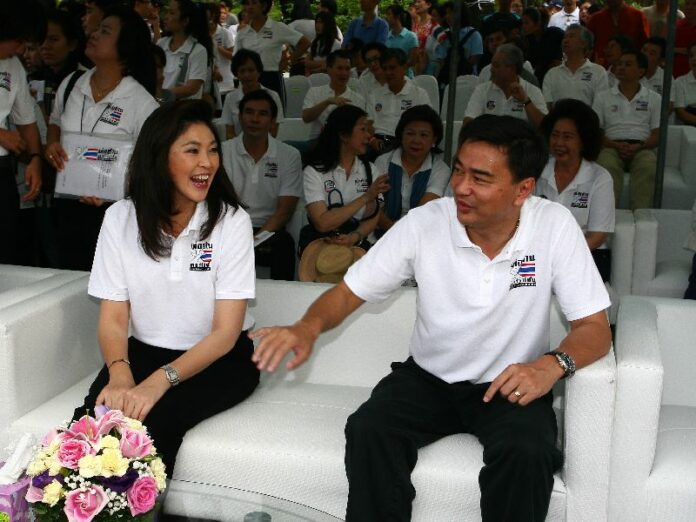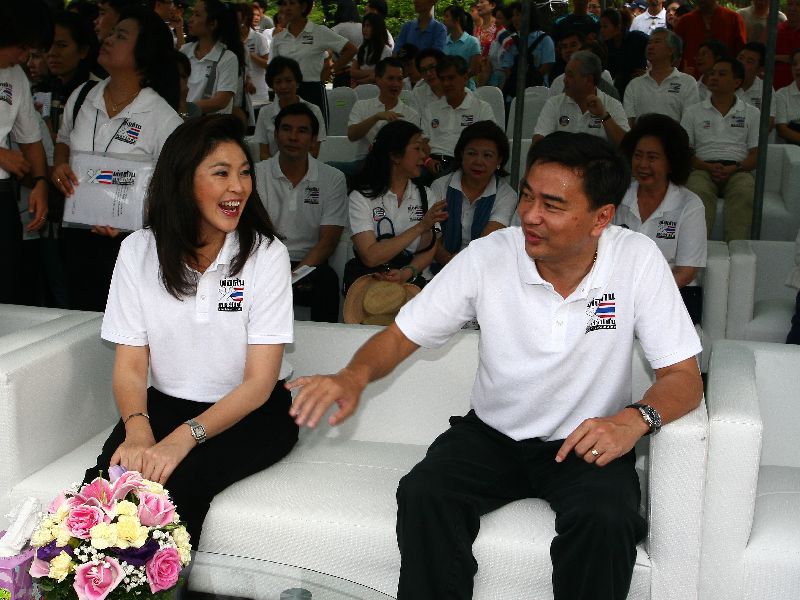 (9 September) Former Prime Minister Abhisit Vejjajiva has refused to apologise for a remark in which he attributed to Prime Minister Yingluck Shinawatra as a "stupid bitch", sparking a torrent of criticism from Ms. Yingluck′s allies.
Mr. Abhisit, who serves as the leader of the opposition Democrat Party, uttered the disparaging remark during the speech he gave at a Democrat-organised rally at Wat Dok Mai Temple on 7 September.
He was criticising Ms. Yingluck′s frequent trips to various events, which, Mr. Abhisit said, amount to negligence of duty because she should have focused more time and energy in solving the nation′s problems.
"The Prime Minister kept avoiding these issues. I can′t see where Ms. Yingluck has been throughout the previous week. What has she been doing?" Mr. Abhisit told the crowd.
He then turned his attention to an event Ms. Yingluck visited recently: the launchingof"Thailand Smart Lady" reality TV show. Although the event was billed as a way to promote women′s roles in Thai society, Mr. Abhisit ridiculed the event as another pointless gesture by the Prime Minister.
"Do you know why they have to do this project?" Mr. Abhisit said mockingly, "Do you know why they are holding a contest for smart ladies? Because if the contest is about finding a stupid bitch [อีโง่], no one would have been able to compete with her".
The ferocity of the remark struck many observers as shocking, because the Oxford-educated Mr. Abhisit, like his party, had long harboured an image of soft-spoken intellectual in contrast with the Redshirts rivals, which the Democrat Party has long portrayed as rude, uneducated rural rabbles.
Mr. Abhisit′s uncharacteristic rudeness might also reflect the larger shift in attitude of the Democrats. The party has recently embarked on aggressive tactics in its attempt to oust the government including organising street protests and creating chaos inside the House of Parliament during debates on contentious issues.
Just last week, a Democrat MP threw a chair in the direction of the House Speaker to display his frustration. Democrat MPs also engaged in fistfights with police officers in the Parliament last month.
Mr. Jadet Chaowilai, director of Women and Men Progressive Movement, a gender equality advocacy group, said Mr. Abhisit′s remark debases women, and warned that the opposition leader has tarnished his own image.
He also said much of the opposition politicians′ attack on Ms. Yingluck hinges on sexism. Indeed, Ms. Yingluck has been called a "whore" and a "slut" by an influential cartoonist and the Democrat deputy spokeswoman, respectively.
The activist suggested that Ms. Yingluck′s opponents should separate criticism against her policies from her gender.
"Otherwise it would only reinforce paternalistic values in this society" Mr. Jadet said.
Pheu Thai Party politicians also seized on the gaffe to blast Mr. Abhisit. Ms. Jarupan Kuldiloke, a Pheu Thai MP, encouraged the public judge whether someone who uttered such an insult is smart or stupid.
Meanwhile, deputy spokesman of Pheu Thai Party, Mr. Anusorn Eiamsa-ad, suggested that Mr. Abhisit finally cracked after bearing so much burden from the election defeat in 2011. "I can understand how much pressure his party has been placing on him" Mr. Anusorn said.
Mr. Abhisit did not apologise for his now-notorious remark when reporters questioned him at the Democrat Party headquarters earlier today.
He claimed that he did not refer to Ms. Yingluck specifically when he said those words on the stage. "I was merely following what I saw on Google," Mr. Abhisit insisted (typing "stupid bitch" in Thai on Google search would bring up images of Ms. Yingluck).
"I don′t know which newspaper has reported the news in such negative manner," Mr. Abhisit told the reporters, "I suppose it′s the same old one that likes to distort [my words]. And if it′s Khaosod, I would not know what to say about it because that newspaper is beyond any remedy".
Asked by a reporter what he has to say to the people who are offended by his remark, the visibly irritated Mr. Abhisit shot back: "Offended about what?"