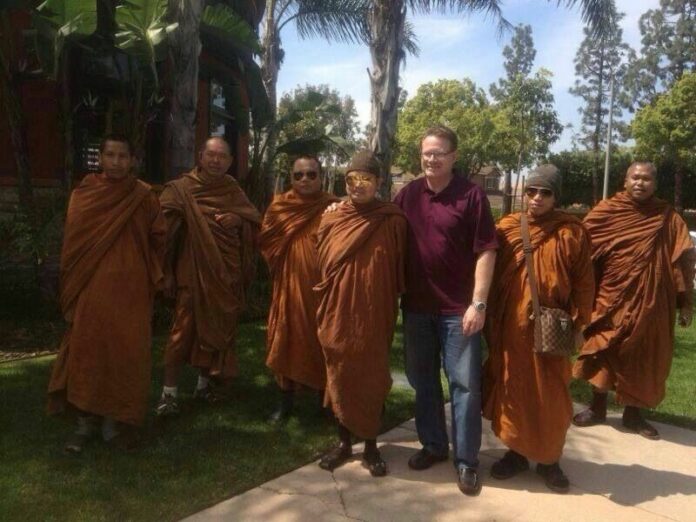 (15 September) An attempt
by the Thai police to arrest a controversial ex-monk in Laos ended when the fugitive made a dramatic
escape from the besieging officers with his private helicopter.
The former monk, Mr. Wirapol
Sukphol, is wanted by the Division of Special Investigation (DSI) for alleged financial fraud,
computer crimes, and statutory rape of an underaged woman.
He has been eluding the DSI ever
since the controversy broke out; Mr. Wirapol is believed to have resided in France, the US, and he
was last known to have taken an abode in Wat Phoo Khaokwai Temple near the capital city of Laos,
where he reportedly resumed acting as a monk despite having been defrocked by the Thai Buddhist
authorities.
Source close to Mr. Wirapol, known formerly as Luang Puu Nen Kham, said a team
of DSI agents had carried an arrest warrant to the temple in Vientiane, intent on apprehending the
monk and bringing him back to face charges in Thailand.
However, reports say, local Laotian
officials barred the DSI from entering the temple, arguing that the Thai agents had not carried a
proper document permitting them to make an arrest within Laotian borders.
Reportedly, as 2
sides were negotiating just outside the temple, one of Mr. Wirapol′s disciples then flew a private
helicopter owned by the ex-monk to pick up Mr. Wirapol and some of his close companions away. The
DSI field agents could only look on helplessly.
Sources also revealed that Mr. Wirapol is
currently hiding in a Laotian temple in Oklahoma, USA, and had received legal advice from an
American lawyer.
According to the sources, the American lawyer is attempting to seek Mr.
Wirapol an asylum visa to remain in the US on the ground of
eligious persecution, which he will
be protected from extradition to the kingdom.
It is not clear why the DSI agents were
operating in Laos, or whether the Laotian officials had been informed of the arrest
attempt.
Meanwhile, Mr. Ansukate Wisuthiwattanasak, DSI Security Crime Department Chief, said
that Mr. Wirapol′s brother, Mr. Suri Sukphol, had confessed for falsely claiming that he was to
responsible for fathering Mr. Wirapol′s child – a claim he made on a famous TV news programme – in order to protect
his brother′s reputation.
The DSI said that they are hoping to meet with the US Immigration
Office and Customs in the US at the end of this month, to bring Mr. Wirapol′s back to stand trial
in Thailand.
There has been no immediate comment from the US authorities on the matter. It is also unclear how he travelled to, and entered, the US.
Correction: The original version of this article incorrectly stated Mr. Wirapol is charged with sexual assault. He is in fact facing a charge of statutory rape.