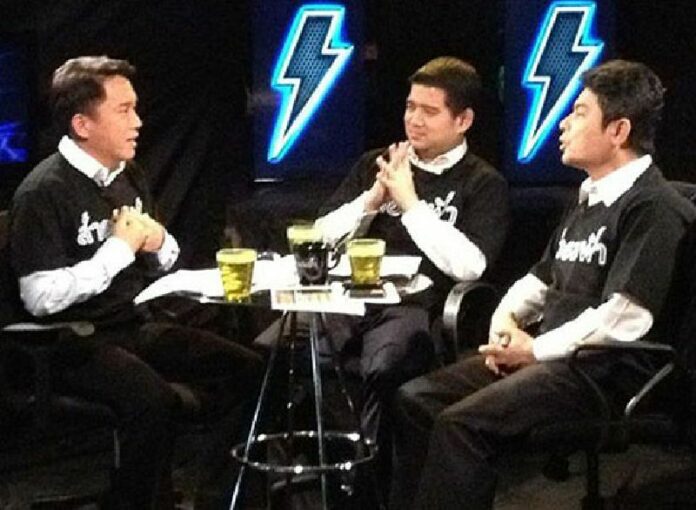 (16 September) A group of
Democrat MPs charged with defaming Prime Minister Yingluck Shinawatra has postponed an appearance in
court.
Mr. Chawanond Intarakomalsut, Mr. Theptai Senpong, and Mr. Sirichok Sopa have been
charged with libel for hosting a talk show on the Democrat-allied Blue Sky TV channel in which they
repeated the rumour of Ms. Yingluck′s alleged secretive meeting with a number of businessmen at Four
Seasons Hotel in downtown Bangkok.
The rumours, which had been circulated in early 2012,
alleged that Ms. Yingluck has shirked her responsibility of attending an important parliamentary
session in order to hold a meeting with Mr. Settha Thaweesin, director of the well-known Sansiri
land developer group.
According to the rumours, Ms. Yingluck had requested Radio Code 5,
denoting a secret assignment, to her bodyguards during the meeting.
The secretive nature of
the meeting had led many anti-government critics at the time to accuse Ms. Yingluck of having sexual
tryst with Mr. Settha, while other variations of the story claimed the Prime Minister was engaged in
a group sex with other businessmen as well.
The 3 Democrat MPs were supposed to appear at the
court with the prosecution today, but the defendants? lawyer requested a postponement, citing his
client′s busy schedule as the MPs. The court has agreed to reschedule the trial to December.
The spectre of ?Four Seasons Affair? was briefly back in the public discussion when The
Nation newspaper incorrectly stated in July that Mr. Settha is Ms. Yingluck′s husband. Ms. Yingluck
is in fact (unofficially) married to Mr. Anusorn Amornchat.
The incident led to an apology
by the newspaper′s management which also announced a disciplinary action against some of its staff
responsible for the mistake.