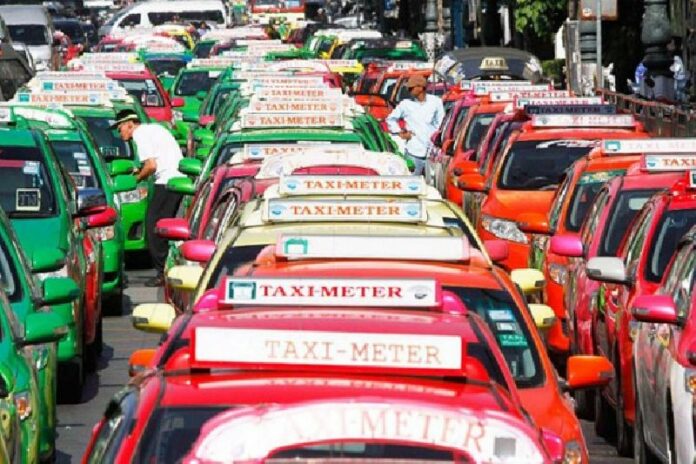 (16 September) Minister of Transport Chatchart Sitthipan said he is planning to equip close
circuit cameras inside taxis to reduce crimes and address the problems of drivers refusing
services to passengers.
Mr. Chatchart said the CCTV installation will promote safer taxi
services, as it allows the authorities to monitor bahaviours of both the drivers and the passengers
inside the cab, including incidents of drivers refusing to take passengers.


Many Thais have complained of taxi drivers in
certain parts of Bangkok refusing services to the them, preferring to pick up foreigners and
charging them extortive fares.

According to Mr. Chatchart, the CCTV project is
cost-effective, noting "the camera is no longer expensive, and the taxi drivers should be able to
afford the equipment."

The Minister also mentioned the previous GPS-attachment plan, which
the Department of Land Transport (DLT) previously proposed, explaining that it would be a good idea
but is rather too expensive.

He also suggested that the taxi rental companies should be held
responsible if their drivers refused services to passengers.

Mr. Atchsathai Rattanadilok Na
Phuket, Deputy Director – General for Operation of DLT, said that the Department is expecting to
draft a law that prohibits such refusal which will also hold the taxi companies accountable for
their drivers? violations. The law is set to be completed in 3 months.

According to the
Deputy Director, punishments include forfeiting the right to renew or withdraw registration
plate.

Moreover, the department is also trying to add a list of taxi drivers and their
registered company into the department's database, in order to be able to check and keep track of
the drivers. The idea is hoping to facilitate the police investigations, if the drivers had violated
the law, or caused harm to their passengers.

However, Mr. Jiruth Wisaljit, Deputy
Director-General for Administration, said that the department still keeps the idea of attaching GPS
to the taxis, as it should help in reducing crimes in Bangkok metropolis and suburb areas.

In the first stage, according to Mr. Jiruth, the DLT might encourage individual taxi drivers
to equip the GPS to their private cab, before gradually pushing the attachment in rental taxis
later.