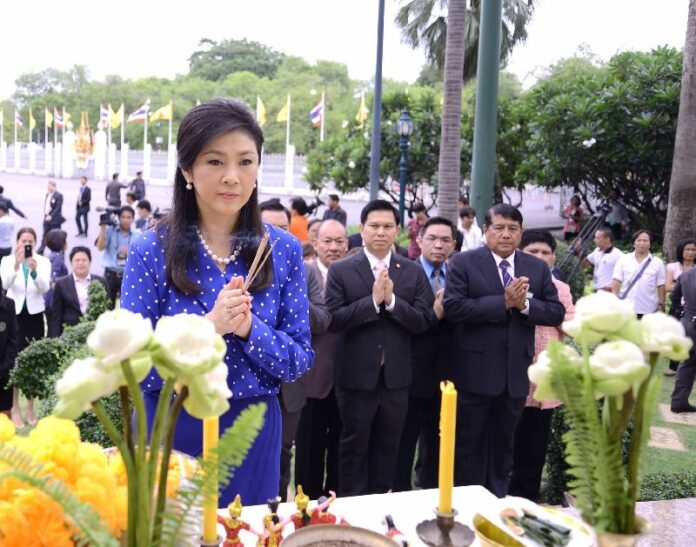 (23 September) A
number of astrologers have predicted that the government of Prime Minister Yingluck Shinawatra is
about to face an unspecified disaster next month.
The rumour has been circulating that a
major political upheaval was scheduled to take place on October 8, which would presumably lead to
the collapse of Ms. Yingluck′s government.
A deeply superstitious society, Thailand is
swamped with constant astrological predictions. Senior politicians are known to consult their
personal astrologers, and these ?experts? are frequently quoted by the mainstream media.
Any
strange event is often interpreted as an omen. For instance, when a patch of mushroom grew on the
lawn in front of the Government House in Bangkok on the eve of major anti-government protests
earlier this year, rumours suggested that the government was about to fall.
The latest
October 8 rumour is partly reinforced by Thai political history; October is a month associated
with important political upheavals in the past, namely the October 14 Student Uprising in 1973 and
the subsequent massacre of student activists at Thammasat University on 6 October
1976.
Speaking to Khaosod, Mr. Attavijoj Sritula, an astrologer, said such history is the
proof that intertwining paths of different zodiacs in October is the cause of political unrest for
Thailand.
The sun, which belongs to Mesha (Aries), will greatly empower Tula
(Libre), Mr. Attaviroj explained, Astrological principles hold that [such alignment]
portends to a broken fortune, which means it is a bad fortune.
He said he is confident
major upheaval is on the way in October, but he refused to specify what that change might be. It
could be anything: natural disasters, accidents, tragedies, political conflicts, Mr. Attaviroj
said.

The astrologer predicted that Thailand will face
tremendous tumult because of the disasters between the month of September and November, and the
calamity will only subside after December.
Asked if there′s anything Thailand could do to
avoid such doom, Mr. Attaviroj said the public should unite and seek the blessing from His Majesty
the King on his birthday this year, 5 December, in order to bring balance to the
misfortunes.
As for a chance of a military coup or Parliamentary dissolution, well, I cannot
say that for sure, because I can only see the bigger picture of our national fortune Mr. Attaviroj
added.
Meanwhile, Daily News reported that Mr. Kengkaj Congchaiphra, another astrologer,
expressed his confidence that the government′s fortunes are in trouble, and that he October Curse
will play its hands this year against Ms. Yingluck.
However, there might be a Knight In
Shining Armour intervening to solve the crisis, Mr. Kengkaj is quoted as
saying.
But yet another astrologer, Mr. Pattana
Pattanasiri, gave Khaosod a completely different prediction. According to Mr. Pattana, Ms.
Yingluck′s fortune would in fact improve greatly after the beginning of October.
The rumours
and anxiety about imminent upheaval is actually due to the path of Mars which caused chaos in the
country, said Mr. Pattana, who also specialises in finding astrologically-appropriate location for
erecting constructions.