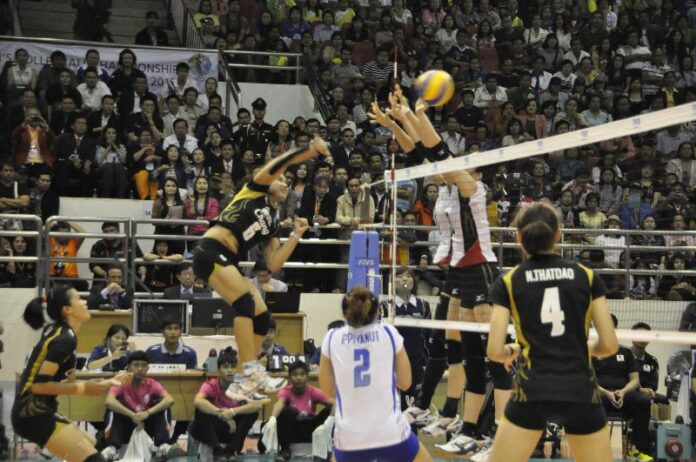 (22 September) The Thai
national volleyball team came to pay their respects at the statue of Thao Suranari at the town centre
of Nakhon Ratchasima, thanking the spirit of the local heroine for their championship.
The
team scored a dramatic victory over Japan′s National Team in the final of 2013 Asian Women's
Volleyball Championship by 3-0 sets in the province yesterday. The match, broadcast live on the
national TV, drove many Thais to their jubilant state of euphoria.
The team's captain,
Wilavan 'Gift' Apinyapong, said that "everybody is happy with the victory, especially me, as we
prove we overcome any pressure".
When reporters asked her whether her age, she is in her late 20s, had been a burden throughout the tournament, she said "We showed that even at nearly 30 we
are still fabulous", referring to a well-known country song, 30 And Still Fabulous.
The
team had trained very rigorously for the tournament, according to the captain, particularly weight
trainings and body buildings to be ready to face tough competitors such as China and
Japan.
Captain Gift, as she has been nicknamed by the press, also extended her thanks to the fans
for their overwhelming support.
"As we were leaving the hotel, every house that we drove past,
there were people waving at us" Wilavan, who is a Nakhon Ratchasima native, recalled, "I was really
impressed, and it made me proud to be Thai, and more importantly, I made it in my own
hometown".
Prior to the matches – which saw the Thai team beating Vietnam and China – the
team has prayed to Lady Suranari, who is said to have rallied the local residents
against Laotian invaders a few hundred years ago.
Give us the victory, the team members prayed,
and we will walk all the way from the stadium to your statue to show the gratitude.
Now that
their championship has been won, Ms. Wilavan and her teammates fulfilled their promise and walked
the distance of 10 kilometres. Many fans had joined their pilgrimage.

"We stopped and asked for water from
people as we walked past their homes" said Wilavan
The team also received nearly 6.8
million baht as a reward for their victory from several sponsors, including Thai Bev and the Sports Authority of Thailand.
Meanwhile, Somphon Chaibang-yang, President of the Thailand Volleyball
Association, expressed his confidence that the national team should earn the gold medal for the next Southeast
Asian Games (SEA Games) tournament in Myanmar this year as well.
The attempt, if possible,
would put the Thai National Team would rank at the 16th on World Volleyball Ranking.
The Association
President also expected to hold an international sport tournament again in the future, considering the
great reception the recent volleyball tournament has earned from Thai sport fans.