ROI ET — A protest flared up northeastern Thailand today after police confiscated a figurine that locals believed was a genuine corpse of the mythical beast known as the Naga.
Hundreds of pilgrims gathered in Roi Et's Baan Kan Sai village today to pray to what they believe is a dead body of the Naga, a snake-like dragon featured in Buddhist cosmology.
Sayan Chomkamsingha, the 41-year-old owner of the house where the alleged Naga body was being enshrined, told police he found the object while he was fishing in a nearby pond three days ago. Sayan said the Naga's body was moving and slimy when he first encountered it, but turned into bronze the moment it touched the air.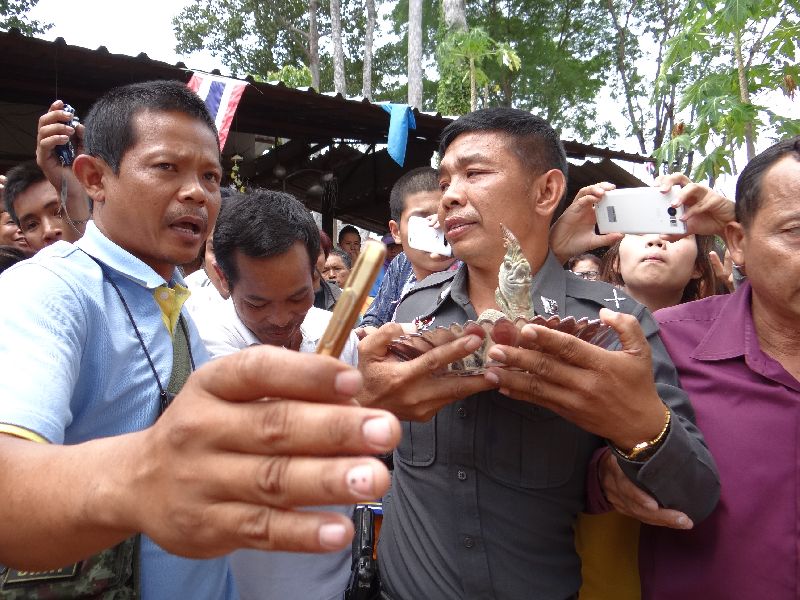 Police arrived at Sayan's house today to take the figurine to a local office of the Department of Fine Arts, where officials would determine whether it was an archaeological object and therefore a national treasure. Upon hearing the news, more than 300 pilgrims in the community began booing the officers and formed a mob, preventing them from taking the figurine.
Teerasit Parkrit, the village chief of Baan Kan Sai, eventually convinced the crowd to back down, allowing the police to bring the object to their van. However, some enraged pilgrims ran after the police van and tried to break the vehicle's window, leading to another round of negotiations.
The object was eventually taken to the Department of Fine Arts, where archaeologists ruled that it was made of metal and less than 30 year old, said Pol.Col. Weerawat Srabua, superintendent of Roi Et Police Station.
Upon deciding that the object as not an archaeological national treasure, officials sent it back to the police.
More than 100 people soon gathered in front of Roi Et Police Station and demanded the police return the statue. Fearing an escalation, police sent the object back to Sayan and the protesters dispersed peacefully.
Some officers suspected Sayan was defrauding the hundreds of pilgrims who were donating money to the Naga's shrine, police said.
Speaking to the media, Sayan insisted the Naga was genuine, and said he had no intention to exploit anyone.
"I am very saddened to hear that the police accused me of fraud," he said.
His wife, Tiamchan Chomkamsingha, said she believes the figurine was the same Naga she spotted in the pond several months ago.
"When I was selling food next to Manao Pond, almost every day I saw the Naga reaching up to the surface and playing with water," Tiamchan told reporters. "It's a miracle."
Alleged sightings of the Naga are common in northeastern Thailand. Every November, thousands of Thais gather on the banks of the Mekong river in Nong Khai province to watch the Naga shoot mysterious "fireballs" into the sky. The event also brings annual heated debates over the source of the fireballs, which skeptics says are incendiary bullets fired from rifles on the other side of the river.
Related coverage: