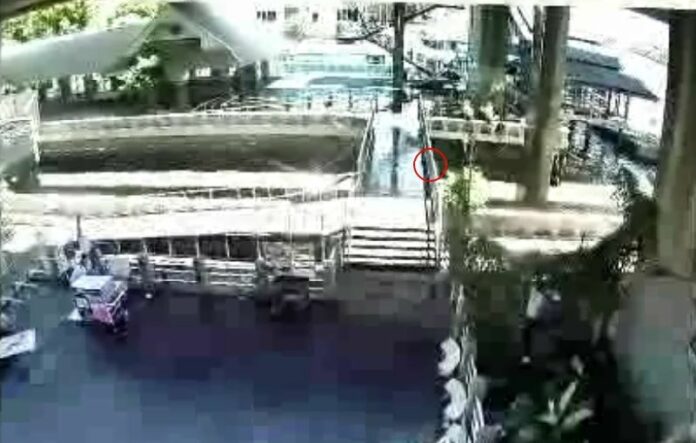 BANGKOK (DPA) – Thai police said they are investigating a new suspect linked to terrorist bombings in Bangkok earlier this week.
A blue-clad suspect is seen in security camera footage throwing a bomb at a busy pier on Monday, police spokesman Prawut Thavornsiri said Saturday.
A blue-clad suspect is throwing a bomb on Monday 17th August.
Bomb exploded on Tuesday 18th August.
The explosive missed the pier and exploded in the river. Forensics teams found similarities between that incident and the bombing that killed 20 people and injured more than 100 the previous day at a popular shrine, officials said.
Police are also seeking a woman seen dressed in black on security footage at the scene of the shrine bombing.
Two men earlier thought to have aided the prime suspect in that bombing were no longer under investigation after one turned himself in.
One of the men was a tour guide and the other was a Chinese tourist who had already left the country.
The two incidents are not thought to be the work of international terrorist organizations, Police Chief Somyot Poompanmoung said Friday, after investigators consulted with Interpol and foreign intelligence agencies.
To reach us about this article or another matter, please contact us by e-mail at: [email protected].
Follow Khaosod English on
and
Twitter
for news, politics and more from Thailand.
Related stories:
Police Refute 'The Times' Report Naming Suspect
Leaked Police Report Tracks Lead Suspect Before, After Bombing
Bangkok Bombing: Police Turn to Interpol as Investigation Stalls
1M Baht Bounty for Bangkok Bomb Suspect
Police Widen Hunt for Bombing 'Network'
Bangkok Shrine Bombing: Those Who Died
Day in Photos: Expressions of Grief, Unity After Terror Attacks
Briton Dies in Bangkok Shrine Bombing
Despite Lack of Evidence, Thai Media Points Blame at Uighurs
Tourists Narrowly Escape Second Bangkok Bombing in 24 Hours
Bangkok Shrine Bombing: Police Hunt Backpack Man