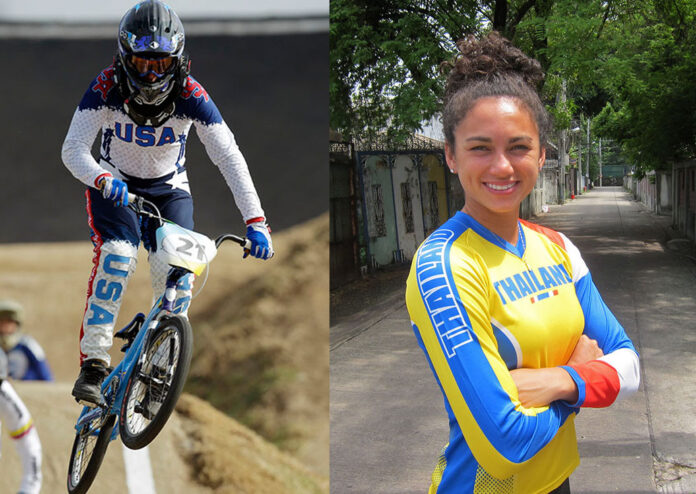 BANGKOK — Amanda Carr didn't let the disappointment of missing selection for the 2012 Olympics hold her back for long.
She got back on her BMX, changed direction and is now finalizing her packing plans for Rio de Janeiro, and harboring genuine medal ambitions. Just not for the United States.
Carr will be representing Thailand in Rio, having switched allegiance after missing a spot on the U.S. team for London four years ago. She has already won a gold medal for Thailand at the 2014 Asian Games.
A dual U.S.-Thai citizen from Punta Gorda, Florida, Carr been racing BMX since she was five.
She won her age-group events at the BMX World Championships in 2005 and 2006 but, realizing she would not be quite old enough to be eligible for the 2008 Olympics in Beijing, she put the sport aside and decided to work toward becoming a student athlete. She won a soccer scholarship to North Carolina State. After a transfer to Florida State she trained in heptathlon.
It was in her dorm room in North Carolina, watching the Beijing Olympics on TV, when she had a sudden realization.
"That's when I saw BMX and thought 'I've raced all those girls before, I can do this,'" she told The Associated Press during a recent visit to Thailand. "From there, that was when the path came back to BMX and to the Olympics."
Carr joined the U.S. national team training program and, with her years of top-level experience and elite fitness standards, she had a strong chance at qualifying for London. Final selection came down to performances at the world championships in Birmingham, England.
"I really did have a fighting shot," Carr recalled. "In the quarterfinals the top four would transfer on to the semifinals. I was top four going into the first turn, and the first person fell. One person lost a little bit of control, and it caused us to domino."
After years of preparation, her London Olympic dream was over because of a collision in which she was blameless.
"It is ruthless, and that's what a lot of us love and hate about it at the same time," Carr said. "Growing up, we just understood that's what the sport entails. You just have to roll with the punches."
It was a mature response, but reflects a sense of perspective that she developed after witnessing the family home burn down in 2007.
"We lost everything in the fire, I lost trophies," Carr said. "We were very lucky to walk away from the fire. I was only 17, so I didn't process it like my parents did because I didn't go through the financial sacrifices of building it. But I have learnt all the material things can be replaced but family things can't be replaced."
So despite the disappointment of missing the 2012 Olympics, she wasn't surprised when the same competition presented her with an alternative direction.
"I saw a gentleman sitting there — the Thai national coach," she said. "Under Thai culture, if you see another Thai you walk up and politely say hello. He looked at me and said 'You're half Thai? You should consider racing for Thailand.'"
Within months, she followed up the offer.
Switching allegiance was a pragmatic decision for Carr. Olympic berths are allocated on the basis of country's ranking points, not those of individuals. Rather than face the intense competition for the spots reserved for the U.S., she had a much easier path and less competition under the Thai flag.
"I have no hard feelings toward the U.S. team," Carr said. "My chances of making the U.S. team for 2016 were still very high, but I knew I would have a better chance of making the Olympics if I competed for Thailand."
It was no flag of convenience, though. Carr has strong connections to Southeast Asia.
He mother Lamoon is from Udon Thani, in northeast Thailand near the Laos border. It was there Lamoon met Amanda's father, Darol, who was stationed at the U.S. Air Force base during the Vietnam War.
Lamoon moved to Florida at age 26 and was 39 when Amanda was born.
Regular visits home with her daughter followed. And Carr, since officially becoming a Thai athlete, now visits two or three times a year and has become fluent in the language. Her affection for the country and its people is more than reciprocated, especially since the Asian Games.
"That was a very cool moment," Carr said. "I won the race, but didn't understand the magnitude of it until I watched my Facebook jump by the thousands, and that's when I thought 'this is a really big deal.'
"Flying back to Thailand, walking through the airport, we came out and there was an orchid arch, and we met the minister for the airport and there was all this media. I was like 'Ok, that was really important for the country.'"
The switch of allegiance to Thailand, she insists, was no snub to the U.S. program or people.
"The U.S. girls, I see them almost more than I see my own family because I'm on the U.S. circuit," Carr said. "Now I show up at a race and it's like 'What's up, what's up, fist bump, let's roll'. Before it was like 'Oh God, I've got to do better than her because that determines funding for the next race.' Now we can just enjoy racing each other."
That camaraderie will be tested in Rio, with the frantic nature of BMX competition creating a very level field.
"Of all the girls at this Olympic Games, there is not one without a chance," Carr said. "Being an extreme sport, anything can happen. I'd love to be in the final, and once I'm in the final, I'll let it all hang and roll with it.
"It's obvious to say 'I'll go for gold,' but the realistic and honest answer for me is to be in the final, enjoy it, and keep Thailand proud."
Story: Chris Lines