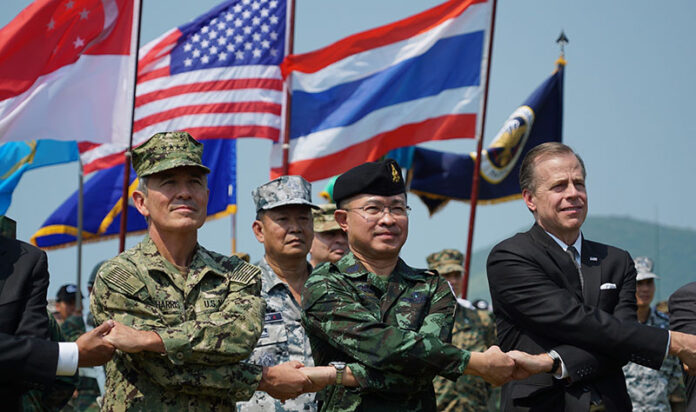 SATTAHIP — The highest-ranking U.S. official to visit Thailand since a 2014 coup urged the country to restore democracy while reaffirming the partnership between the two nations, saying Tuesday that America needs "a strong and stable ally" in Southeast Asia.
Adm. Harry B. Harris, the head of the U.S. Pacific Command, spoke at the start of the annual Cobra Gold Thai-U.S. joint military exercises, the largest in the Asia-Pacific region.
"We look forward to Thailand's reemergence as a flourishing democracy because we need Thailand as a strong and stable ally," Harris said. "We need Thailand to get back to being the regional and global leader that it always has been."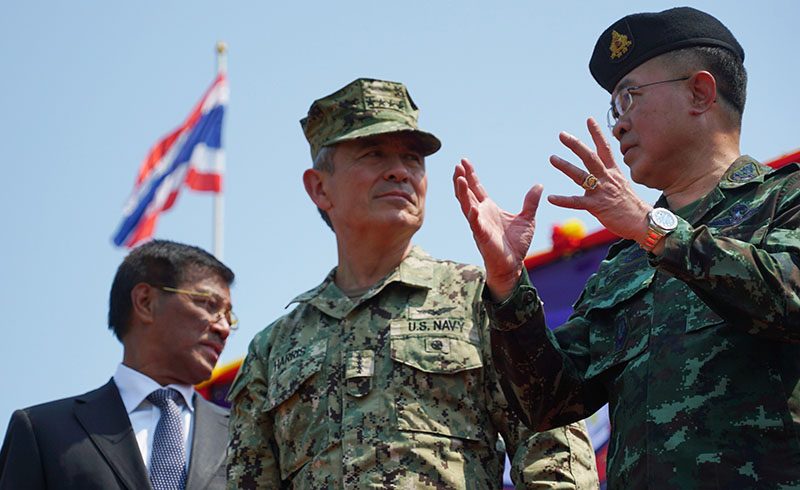 But even as he asked Thai leaders to step up, he made it clear the U.S. remains committed to the countries' military relationship. Harris' visit, planned under the Obama administration, is widely seen as a signal that the U.S. will continue to back Thailand.
"Folks, our alliance is a big deal," Harris said. "Nations don't enter security treaty alliances lightly. It means we're in it for the long haul."
Twenty-nine countries, including China, India and Malaysia, are participating in or observing the exercises. Some 3,600 American troops are attending this year, hundreds more than last year.
Cobra Gold comes at an uncertain time for Thailand's relations with the U.S., China and Russia.
Thailand, for decades a stalwart American ally, saw relations with the U.S. cool after its military overthrew a democratically elected government in 2014. In response to the coup, the U.S. froze millions in military aid.
In the past few years, the Thai army has turned to Chinese and Russian tanks and helicopters to replace outdated American equipment. It also has been ramping up joint military exercises with China, and last year the army announced it would buy three Chinese submarines in a deal worth about $1 billion.
China frightens many in Southeast Asia with expansionist policies in the South China Sea. However, China's claims do not clash with Thai territorial waters, paving the way for friendly relations.
"It's like a balancing scale," said Panitan Wattanayagorn, a professor at Bangkok's Chulalongkorn University and an adviser to Thailand's defense minister. "Thailand is a small country between superpowers, and it has to balance to make sure the scale doesn't tip too much in one way."
With an eye on China, the U.S. has been trying to draw Thailand closer again recently, despite political differences.
"Washington is sorely trying to show the Thai junta and Southeast Asian governments that it prioritizes formal relations with them," said Paul Chambers, research director at the Institute of Southeast Asian Affairs. "In other words, geopolitics is more important than liberal values, regardless of human rights violations."
Story: Dake Kang