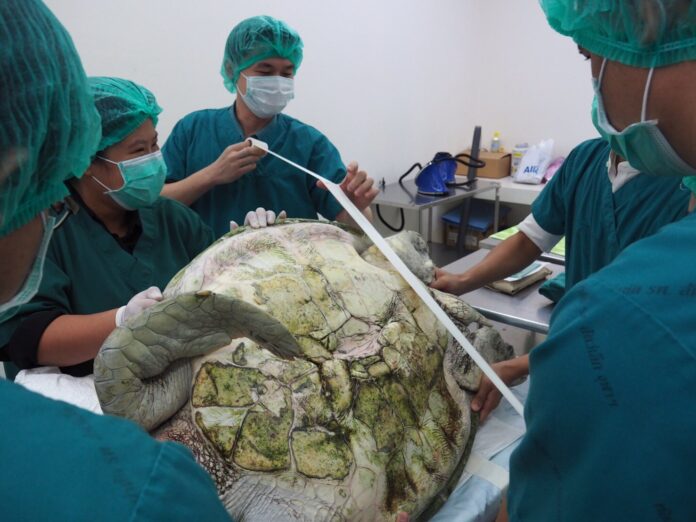 BANGKOK — Nearly 1,000 coins were removed from an ailing green sea turtle, who survived four hours of surgery Monday to have them removed from her digestive tract.
Piggy Bank, a female green sea turtle found last month in Chonburi province with a wealth of coins lodged in her guts, survived surgery at Chulalongkorn University, during which vets removed 915 coins weighing approximately five kilograms.
Read: 'Piggy Bank' Ate Too Many Coins. Now Chula Vets are Trying to Save Her.
"We found coins both in her stomach and intestines," Nantarika said. "If we didn't operate on her then she wouldn't have been able to eat or defecate, and would have soon died."
The surgery wasn't easy going. After Piggy Bank was anesthetized, a 10-centimeter opening was cut into the bottom of her shell. The doctors were unable to remove the coins that way, so they had to cut into her stomach to remove the coins, making sure not to tear the delicate lining of the turtle's abdomen.
The team was unable to estimate the total value of Piggy Bank's internal wealth, as many of the coins were in other currencies or had corroded beyond recognition.
Rungrote used the occasion to urge people to stop throwing coins into ponds which may be inhabited by animals.
"Green sea turtles can live up to 80 years. People believe that throwing coins to these turtles will result in their longevity, so people put them in ponds and throw coins and banknotes at them, causing turtles to die before their natural lifespan. This is actually committing sin, not making merit," Rungrote said.
Piggy Bank's CT scan on Feb. 22 revealed a mass of coins 20 centimeters wide.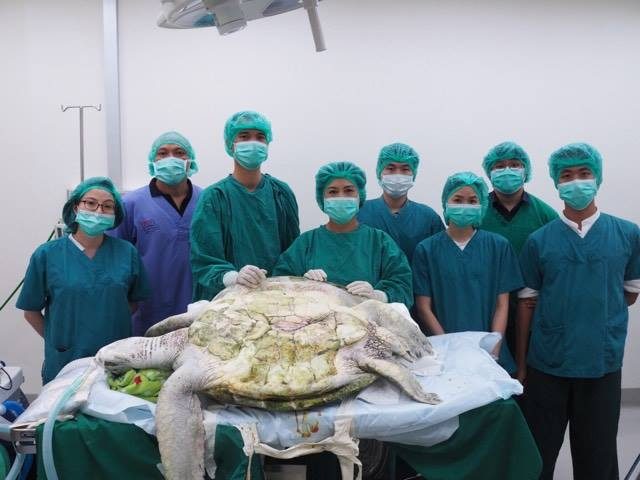 University Veterinarian Nantarika Chansue and her team operated on the 25-year-old turtle.
"This is the world's first surgery to remove coins from a green sea turtle," said Rungrote Thanawongnuwet, head of the Chula's vet science program.
Piggy Bank is currently recuperating in intensive care, where she will remain for one to two weeks. She will receive a saline solution, but no solid food.
When Piggy Bank is completely recovered, she will be released back into the ocean, the vets said.