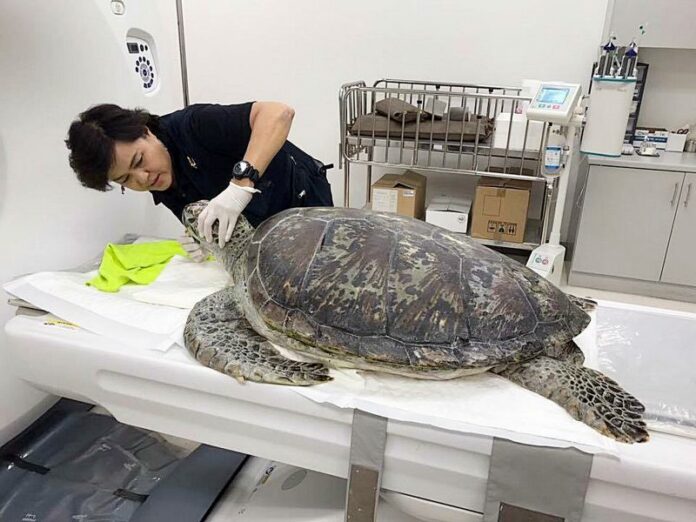 BANGKOK — Coins thrown into a pond for good fortune turned out to be bad luck for a green sea turtle who ate them. But a reversal of fortunes for the crippled animal, which was crippled and near death, came Wednesday when a Chulalongkorn University vet operated to empty its belly of coins.
Nantarika Chansue, professor of veterinary science, pleaded with people to stop tossing coins into places animals may live in after she discovered the large lump of coins inside the 25-year-old green sea turtle they've taken to calling Ormsin, or Piggy Bank.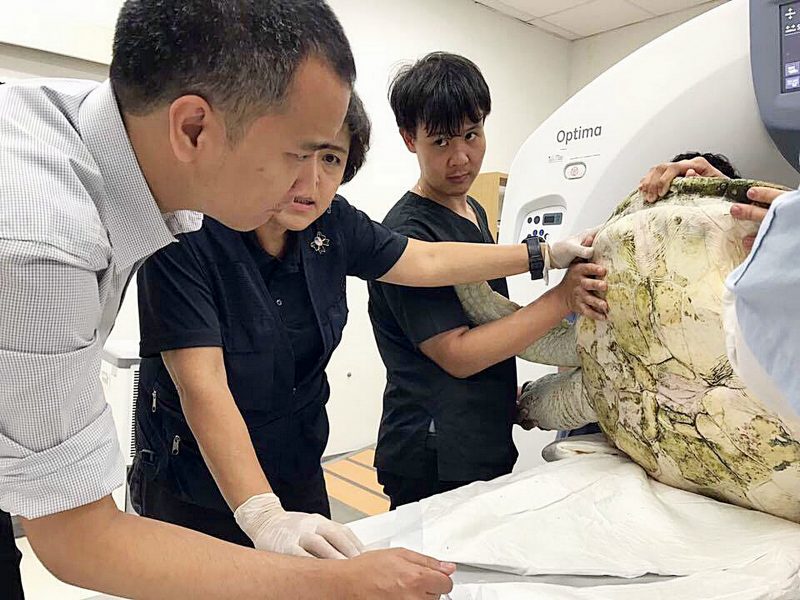 "It's torture for animals after they eat the coins people throw into ponds. Instead of getting merit, you actually commit a sin due to your wrong belief," Nantarika said. "Please change from throwing coins into the ponds to putting money into donation boxes."
The turtle was brought into the Royal Thai Navy Sea Turtle Conservation Center in Chonburi province after residents found it in a body of water outside an abandoned building.
Kirin Sarapipatcharoen, conservation center vet, found an unusual lump on its normally flat belly. Suspecting it was a tumor or cyst, he sent it to the university for a CT scan.
At the university, Nantika took charge.
"When we first saw her, she was very still and was letting herself drown. Her left leg wasn't moving because it was impeded by the lump of coins," Nantika said. "The scan revealed a mass of coins 20cm wide, pressed into [the abdominal wall] near her stomach. We aren't sure if they penetrated into her stomach yet. We also found fish bait inside."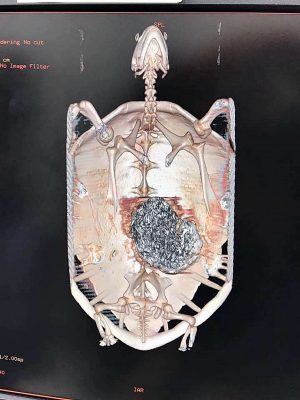 At the moment, Bank is being nourished with supplements so she can survive being anesthetized for surgery within the next two weeks. Her blood will also be tested for possible infection, which might require a blood transfusion.
"We all agreed that the surgery has to happen," Nantika said. "If we leave it alone, she will die a slow, torturous death."
Nantarika said temples and zoos should be vigilant about coin-throwing, because she's personally found coins in more than 20 fish, crocodiles, hippos, turtles and rays.
Nantika's post detailing the operation on Facebook has been shared more than 12,000 times.

Piggy Bank's CT scan. Photo: Nantarika Chansue / Facebook