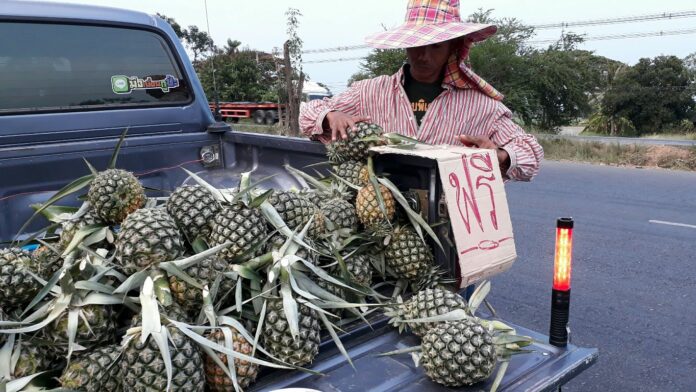 PRACHUAP KHIRI KHAN — A group of farmers in the Thai south gave away 10 tons of pineapples Wednesday morning to protest factories for rejecting their produce.
Starting at 7:30am, a handful of orchard owners gave their fruit away for free to call attention to what they said were spurious reasons given by pineapple factories for not buying their fruit, accusing them of trying to drive down prices.
"I was discouraged when I went to sell my produce to factories, who said my pineapples were ugly or rotten and kicked me out without buying a single one," said Rang Sonkram, 43, the farmer in charge of the giveaway. "I decided that giving them away for free would be more beneficial and would make me feel good and proud that people are eating them."
Rang and his six pineapple farmer friends set up two truckloads of pineapples by Phet Kasem Road in the Kui Buri district of Prachuap Khiri Khan province to make a statement to the factories, which he refused to name.
"Before, factories would buy pineapples by the ton, and pay 12 to 13 baht per pineapple. Now, they'll pay only 5 baht per pineapple, and only buy a couple hundred kilos or none at all. They'll accuse me of selling low-quality produce and chase me out of the factory," Rang said.
Factories would even try to bargain the price down to 2 baht or 3 baht per pineapple.
"Even selling for 5 baht, I won't earn 1,000 baht to pay back the driver," Rang said. "Some factories say they're too raw while others say the same pineapples are too ripe."
Drivers who stopped for free pineapples asked why they were being given away.
"I told them that I can't sell the pineapples anyway, even if they're delicious and good quality," Rang said. Rang will give away any leftover pineapples from today's giveaway to a cattle farmer friend to feed to his cows.
"I had plans to make a million baht this year from selling pineapples, but I don't even think I will make 100,000 baht," Rang said, adding that he will continue to give away the pineapples he can't sell.