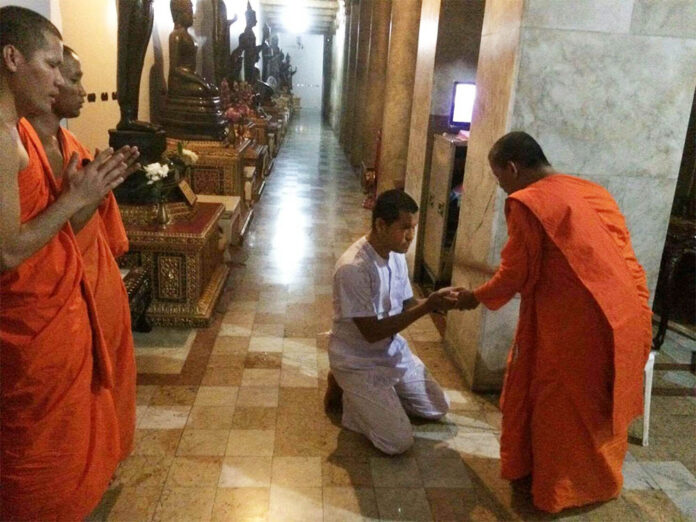 BANGKOK — A spokesman for the junta said Thursday that a controversial monk taken into military custody and flown to Bangkok to be forcibly disrobed at Wat Benchamabophit had been warned before for his provocations against Muslims.
Col. Winthai Suvari defended the soldiers who took Apichat Punnajanatho into military custody and flew him to Bangkok to be expelled from the monkhood Wednesday night, saying the Supreme Sangha Council had warned him to stop attacking Islam back in 2015.
"We will have to wait and see if police [file charges]," Winthai said Thursday. "As for him being taken to a military base, it could be just for a talk and to seek his cooperation. I don't want people to see it as something aggressive."
Read: Radical Monk Sues Muslim Group for Calling Him Fake on Facebook
Deputy junta leader Gen. Prawit Wongsuwan said Thursday morning that Apichat was a "threat to national security."
Human rights activists said that while they disagree with the hate Apichat Punnajanatho preaches, they deplore the way security forces handled the monk.
"The behavior of Phra Apichat isn't something to be admired. He's a loudmouth asking for trouble and an extremist Buddhist," rights lawyer Anon Nampa wrote on Facebook this morning. "But dealing with him should have been done under the law and ecclesiastical regulations."
The well-known monk once said in an interview he wanted to emulate hardline Buddhist monks in Burma by organizing an anti-Islam movement in Thailand. He regularly uploaded videos of himself berating Muslims or calling for restrictions on Islam, such as putting a ban on construction of new mosques.
In perhaps the most infamous speech, Aphichat urged Buddhists in the southern border region of Thailand to band together and burn a mosque every time a Buddhist was killed by Muslim separatists. The speech drew widespread condemnation and the government reportedly asked him to deactivate his Facebook in early 2016. He did so, but returned to social media in January this year, ostensibly to coordinate charity efforts for the flood-stricken south.
He posted a video in late August criticizing the Thai government's affirmative action education programs in the Deep South, saying they discriminated against Buddhist students there.
The video was posted to a Facebook page associated with Apichat which declares "Islam is the enemy of Buddhism."
The ceremony disrobing him was confirmed by an online Buddhist group at 6:30pm last night. Still photos show him going through the ceremony to leave the monkhood at Wat Benchamabophit, the temple where he was ordained, wearing white clothes instead of the saffron-color robes of a monk.
It's unclear what exactly was the last straw. Col. Winthai said he had no details. But the move comes as neighboring Myanmar has become an international pariah for initiating pogroms of its Muslim Rohingya population. Nearly half a million – about one in two – of Myanmar's Rohingya have fled the nation. The violence erupted after a newly formed insurgent group attacked security forces there last month following years of victimization by the Buddhist majority.
Anti-Muslim sentiments are strong in Myanmar, where ultranationalist Buddhist monks have fanned the flames against Islam and the Rohingya for years.
Apichat was taken from a temple in Songkhla province by soldiers to be detained and interrogated overnight at a military camp in Hat Yai, Songkhla province. He then was flew to Bangkok to be further interrogated at the 11th Army Circle under the junta's order.
The former monk could not be reached for comment Thursday, but rights activists such as Sunai Phasuk, a researcher with Human Rights Watch Thailand, deplored how the case was handled.
"The case of Phra Maha Apichat shows under the dictatorial system of the [junta] everyone has the chance of becoming a victim of the use of unrestrained power to be arrested and detained secretly … without due process," Sunai wrote Wednesday night.
Buddhist scholar Surapot Thaweesak wrote online that the authorities should explain in detail to the public as to what exactly that the monk said or preached that led to him being forced to leave the monkhood.
Related stories:
Radical Monk Sues Muslim Group for Calling Him Fake on Facebook
Buddhist Authority to Investigate Anti-Islam 'Facebook Monk'