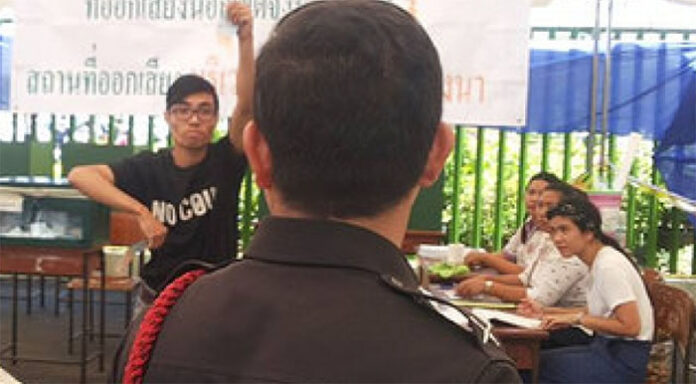 BANGKOK — The Phra Khanong Provincial Court in Bangkok on Tuesday handed down a two-month suspended sentence and 2,000 baht fine to an activist who deliberately tore his ballot in protest during last year's charter referendum.
Piyarat Chongthep, 26, had faced 10 years in prison on charges of obstructing the Aug. 7, 2016, referendum, causing a disturbance at a polling station and destruction of state property for tearing the 25-satang ballot.
"I was conscious. What I did wasn't out of hatred. Even if I were to be sentenced to prison, I would forgive them," he told Khaosod English before the verdict was read.
Read: Madman or Idealist, Activist Facing 10 Years for Tearing Ballot Has No Regrets
His sentence was suspended for one year, during which time he is effectively on probation.
The original suspended sentence of four months and fine of 4,000 baht were halved because the political activist confessed. He said it was intended as an act of civil disobedience. The court found him guilty of violating part of a special referendum law passed months prior to the August 2016 vote on the new constitution crafted by appointees of the ruling junta. He was also convicted of destruction of state property.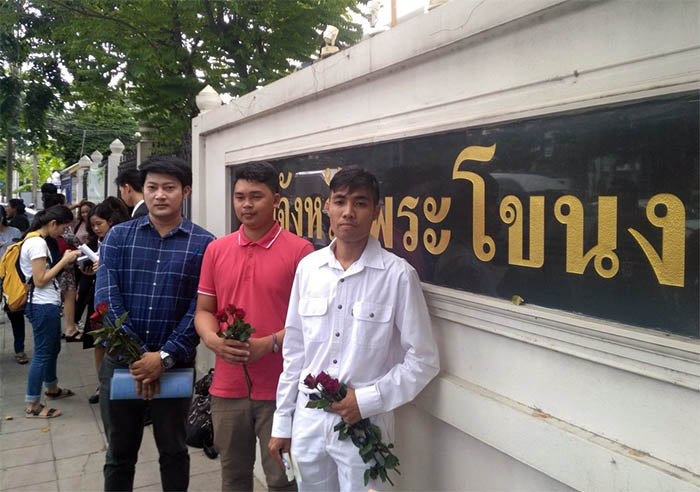 He was cleared of the remaining count because the court ruled he had expressed his opinion in a peaceful manner, Piyarat wrote after the ruling.
Piyarat wrote just after 10am that he and two other men who were there to film his defiant action were found not guilty of causing a disturbance at the Bang Na district polling station because there was no evidence they prevented others from exercising their right to vote.
The two other defendants were Jirawat Ake-akaranuwat and Songtham Kaewpanpruk. Supporters were told by the judges to leave the courtroom before the sentence was read, leaving only Piyarat with his lawyers and the two defendants, according to the Internet Law Reform Dialogue, a justice advocacy group which monitors legal cases.