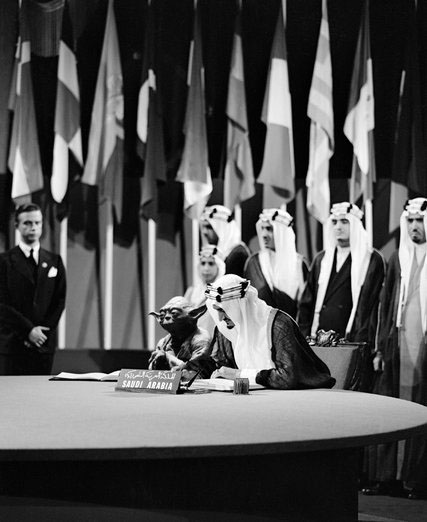 RIYADH, Saudi Arabia — A senior Education Ministry official in Saudi Arabia has been fired after high school students opened their textbooks to find an image of Yoda from the "Star Wars" films seated next to a Saudi king.
The image produced by Saudi artist Abdullah Al Shehri, known as Shaweesh, shows the late King Faisal, who was foreign minister at the time, signing the United Nations Charter in 1945 with the diminutive green Jedi master seated to his right.
Education Minister Ahmed al-Eissa described it as an "unintended mistake" and wrote on Twitter that new versions of the textbook were being printed.
State-linked Okaz news website says Undersecretary for Curricula and Educational Programs Mohammed al-Harthi was dismissed from his post Monday and that the ministry will establish a new process for reviewing textbooks.