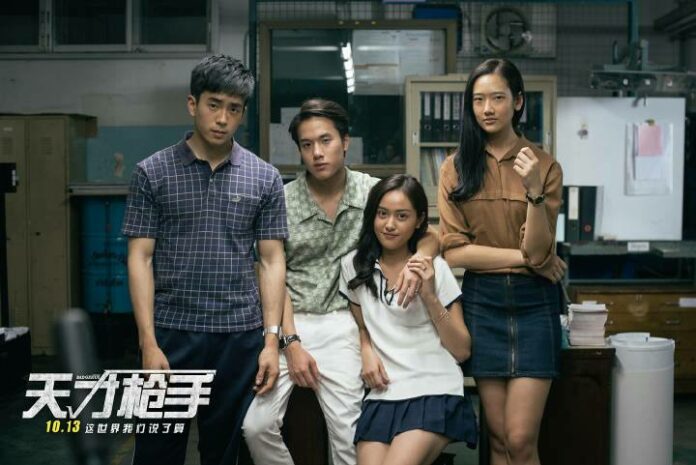 BANGKOK — Five days after it opened on the mainland, Thailand's top-performing movie of the year has earned nearly seven times as much at the Chinese box office.
"Bad Genius," or "Chalard Games Goeng," has grossed more than 740 million baht in ticket sales since opening Friday in Chinese theaters, making it mainland China's top foreign film. That's a massive take for a film which that earned 112 million baht in domestic sales.
The film centers around high school student and math whiz Lynn (Chutimon "Aokbab" Chuengcharoensukying), who uses elaborate schemes to help rich, academically challenged students cheat on standardized exams.
It also opened No. 1 at the box office in Taiwan and Hong Kong. Film critic Edmund Lee noted in the South China Morning Post that it won audiences for "its attractive cast, vibrant storytelling and, of course, an obsession with public exam systems that would feel very familiar to Hong Kong viewers."
It's set a new record for overseas sales, surpassing 2004's "Ong-bak: The Thai Warrior" (583 million baht) and "Shutter," (145 million baht) in the same year.
Facebook page Aizhong, which posts social and pop culture happenings in China to a Thai audience, posted Wednesday that a Chinese student at Sichuan Film and Television University was so enamoured with the film that he sculpted a bust of Aokbab and made a shrine for her, calling her the "Goddess of Exams."
For her role as Lynn, 21-year-old Aokbab was the first Thai to win the Rising Star Asia Award at the this year's New York Asian Film Festival. "Bad Genius," from "Countdown" (2012) director Nattawut Poonpiriya, was the only Thai film to screen there this year.
"Bad Genius" was produced by GDH 559 film studio, a subsidiary of GMM Grammy. It debuted domestically May 3 and has shown in Laos, Singapore, Cambodia, Taiwan, Brunei, Malaysia, Hong Kong, Indonesia, and Vietnam. It is currently in theaters in China and the Philippines. "Bad Genius" will screen in Australia and New Zealand in October and in South Korea in November.